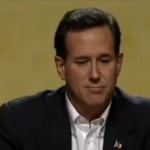 Ambisinistral, who incidentally is a great dancer, is heading up an interesting project in which he places leftists in Skinner boxes individual fully-enclosed wooden terraria. He takes a moment to write the Czar about a comment we made.
"Rick Santorum has to learn charisma. Theoretically, all doable."

Dear Mr. Czar,

Are you sure you worded that properly, because the Santorum I'm familiar with lacks even a molecule of charisma.

Your pal,
Ambisinistral
Yep, meant every word of it. And kinda glad you took the bait on that one, because you allow us the opportunity to make a longer post, but not one of those Œcumenical ones that scare off the little folk.
Theoretically, Rick Santorum could learn a lot of charisma in time to get win enough voters to be nominated. He might, for example, smile when others are talking to him, or better yet—smile when people are talking about him, instead of fidgeting, pointing a finger at a moderator, or scowling when a questioner disagrees. He might, for example, reduce his statements to smaller responses instead of multipart dissertations on the microeconomics of industrial sectors. He might be more reassuring, like Mitt Romney can be, when expressing optimism. You know when Santorum is at his best? When he gets votes; and it seems he gets a bump in the polls every time he talks about his grandfather and father. This is simply because he looks like a human being who gives a crap about other people, instead of being another politician developing another multipart dissertation. Santorum could learn all this in plenty of time. But will he?
Likewise, Mitt Romney could, theoretically, lose his glass jaw. Everytime someone criticizes him in a debate, Romney stammers, hems and haws, and provides a surprisingly weak answer. Romney is so predictable at this that Santorum laid two traps for him in the last debate: criticized Romney on the reality of Massachusetts healthcare; and then when Romney brought up counter-arguments, Santorum nailed him with facts and figures on each and every one. This is terrible for Romney: imagine what the thousands of Obama fact-finders will type into the teleprompter! Mitt Romney is predictable, and therefore quite weak. Romney needs to toughen up; maybe he could hang out at some Philadelphia bar some Sunday and list what he hates about the Eagles. He'll learn to stand his ground for sure. Romney needs to start answering questions specifically, and not simply get flustered. He could actually toughen up in to a real fighter. But will he?
Finally, Newt Gingrich needs to learn some discipline. There is a meme developing in the media that Gingrich won South Carolina because Republicans are sick of the media, and Gingrich knows how to upset them. That is likely part of the truth, but not all of it. But if Gingrich wants to keep the momentum going, he needs to learn to shut up.
Example: Gingrich is questioned about his past support for an individual mandate. Gingrich blasts the interviewer, saying that they should have spent the last three years questioning Obama about his support. Thunderous applause. And then he'll say something like "And that's why when I'm president, every American will wear one of those dog cones around their neck so they don't lick their sutures." And nobody thinks that's odd because they are still applauding his zinger at Obama or the media. You go back and re-read some of his recent statements and you think Gingrich can be as wacky as Ron Paul, but without nuclear weapons.
Gingrich needs to read the pulse of the room, recognize when he made his point, and then shut up. Move on to the next question, and stop assuming that scattered applause does not equal universal support for every goofy lunar base concept he wants to build. He can learn this discipline in time for a nomination. But will he?
Hence, the Czar suspects that the public will latch on to the first candidate who learns to correct his major problem, and further, as a result, we will likely support and promote that candidate.
But thank goodness none of them have Obama's performance record. That's a fault that cannot be overcome by November, but unless one of these three GOP candidates fixes theirs, this is a problem.
President Obama may not be able to whitewash his record, or deliver the same inspirational speeches he did in 2008. But all he has to do is make Santorum look pissy, or get Romney to crumple and stammer with a panicky look, or encourage Gingrich to channel Colonel Nathan R. Jessup on the stand, and voters will not care about the facts. They will want the scary other guy to go away.

Божію Поспѣшествующею Милостію Мы, Дима Грозный Императоръ и Самодержецъ Всероссiйскiй, цѣсарь Московскiй. The Czar was born in the steppes of Russia in 1267, and was cheated out of total control of all Russia upon the death of Boris Mikhailovich, who replaced Alexander Yaroslav Nevsky in 1263. However, in 1283, our Czar was passed over due to a clerical error and the rule of all Russia went to his second cousin Daniil (Даниил Александрович), whom Czar still resents. As a half-hearted apology, the Czar was awarded control over Muscovy, inconveniently located 5,000 miles away just outside Chicago. He now spends his time seething about this and writing about other stuff that bothers him.