The 'I(owa)' of the Cyclone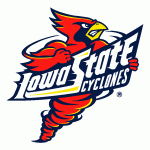 While everyone else is calling them the Hawkeye Cauci, Dr. J. would rather give a shout out to Iowa State and call them the Cyclone sessions.
Nevertheless with ~40% claiming undecided status and with eligibility rules such that individuals may register or re-register as Republicans to vote on site, and the funkiness of the caucus process the potential for
crossover
shenanigans
, Dr. J. things that the outcomes will be interesting.
For those who don't know, the way a caucus works is that folks go the their local precinct site (a church hall, school gymnasium, etc…) and a local citizen who is a designee for a candidate makes their case. Then, everyone votes via show of hands, slips of paper, or gathering in the corner of their room designated to the candidate of their choice.
Given these three quirks, Dr. J. thinks that the results will be as follows.
1) Rick Santorum
2) Ron Paul
3) Mitt Romney
Dr. J. is predicting a Santorum win because of what Dr. J. calls the 'American Idol' factor. On American Idol, if a country singer gets voted off, the majority of that artist's voters coalesce around another country singer. They aren't typically going to crossover to the hip hop artist, no matter how talented. It is a matter of coalition building.
Mitt has had a well documented polling glass ceiling that Dr. J. isn't going to bother give a legion of citations for. Just go ahead and Google that one yourself.
What Dr. J. does predict is that Rick is the guy the Iowa conservatives are going to latch on to. Dr. J. believes that Bachman, Perry and Gingrich are going to underperform what the polling data are predicting and their partisans will go with Santorum in order to get the win over Romney and Paul. That being said, Dr. J. thinks that a number of 'independents' and essentially a Democratic/Union/Occupy flash mob will try to mess the whole thing up by backing Paul or 'Manchurian Candidate' Huntsman, so he may sneak out a win.
Dr. J. could also be completely wrong, it's only the Iowa Caucus for Pete's sake! Dr. J.'s buddy Jamie Jeffords, at the
Eye of Polyphemus
made his
predictions
as well. Go check those out too!