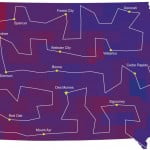 Dear Messrs. Ryan, Rubio, Jindal, Christie and Generic & Mmes. Haley, Martinez and Brewer,
It is only 1461 days until the 2016 Iowa Caucuses! It is never too early to get your grassroots on and glad-hand the Iawonian masses.
As you know, there are 99 counties in Iowa. As early campaign dollars will be limited because big donors are still donating their ducats to what you know is the already irrelevant 2012 race. You have to be smart about getting around the state quickly and efficiently.
Fortunately, someone else got the smart on for you.
Professors Robert Vanderbei and Alain Kornhauser of Princeton University of the Department of Operations Research and Financial Engineering, along with William Cook of Georgia Tech determined the most efficient circuit to all the county seats in Iowa. The nice thing about their route is that it is a loop, meaning that you can start anywhere you like.

Furthermore, they were so kind as to use the 2008 county by county election results to demonstrate the degree of 'redness' or 'blueness' of each county.
Their methods were simple. The first step was to calculate the driving distance between each of the 99 county seats using Dr. Kornhauser's Co-Pilot GPS software using the 'shortest time' rather than 'shortest distance' method.
Now one could imagine the number of different routes one could take to hit all 99 counties. Only one route is the shortest. Given the permutations, brute force calculating the shortest route would be nearly impossible.
Dr. Cook gives a nice synopsis of this in his December 21st NYT opinion piece. Drs. Vanderbei and Kornhauser discuss it further at the Princeton Engineering blog. This problem in applied mathematics is called the 'Traveling Salesman Problem.' The generic solution to this question is still out there, but there are techniques to solve this problem in a limited manner. The manner the Cook, Kornhauser and Vanderbei used was the 'cutting plane method.' Dr. J. may be oversimplifying, but basically, you define a certain part of the route as already optimal, and then test iterations based on that. The Royal Mathematician, Dr. (KN)J. may wish to opine as is his wont to do when Dr. J. forgets to carry the one.
One may also weigh the value of certain cities, for example, one may care more about 'redder counties' than 'bluer counties' and also population density. The "Prize Collecting Traveling Salesman Problem" can be solved in order to take this into account.
The reason that Dr. J. is presenting this to you is that he has an appreciation for folks who present data robustly and in a manner that can convey multiple dimensions of information simultaneously. Also, Dr. J.'s college roommate and another chum at Ivy University were civil engineers and took a number of courses in optimization and modeling similar to what Drs. Kornhauser and Vanderbei teach at Princeton, and what Dr. Cook teaches at Georgia Tech. Dr. J.'s friends used the same methods to solve a 'Prize Collecting Traveling Salesman Problem' to create and optimal beer delivery system to the college fraternity houses. They took into account geography, beer consumption and need to borrow kegs from other fraternities (a.k.a. consumption volatility). They got an A for their effort and a smilie face on their report from the professor. The IFC even used their report to negotiate a better beer contract with the distributor.