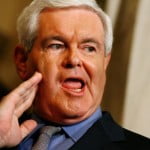 Wow, Newt is getting a little worried. Check out this ad hitting the blogs in South Carolina.
| | |
| --- | --- |
| | Morning, South Carolina! I'm Newt Gingrich, and I am outraged to learn some of my fellow candidates don't want to speak so that Americans can understand them. What are they trying to hide? How bad are they trying to fool you? Take a look! |
| | Mitt Romney speaks French! Can you believe it? Shoot, he's probably sleeping with your wife right now! No wonder he's a coward. |
| | Jon Huntsman? He speaks Chinee. Ya can't trust him, the slick double-talker. He's the kind of guy who goes into a revolving door behind you, and comes out in front of ya. |
| | Rick Perry speaks Spanish! Good God, ya'll! Do I gotta paint a picture here? This is the guy who will come to your house and shoot your coyote puppies! Ask him! |
| | Rick "et Saecula" Santorum? Hell, he speaks Latin. You can bet your change will be missing off your dresser in the morning. I heard…and ain't making this up…his pappy spoke Italian, too! He wears them sweater vests to hide the color shirt he's wearing, if you know what I mean. And I think you do. |
| | Dr. Ron Paul, why he's the craziest of the bunch. Who the hell knows what he's talking. Maybe Lakota or Yoruba. I heard he speaks all the languages. He's a doctor! You ever read your doctor's prescriptions? You want that as President? Do ya? Lemme know, because if you do, I'll move right to France or somewhere safe. |
| | Anyhow, I'm Newt Gingrich, and I don't speak any languages at all, I ain't got no fancy doctorate, I never took money to fix a corporate entity, and I sure as hell ain't no Washington type, neither! |

Божію Поспѣшествующею Милостію Мы, Дима Грозный Императоръ и Самодержецъ Всероссiйскiй, цѣсарь Московскiй. The Czar was born in the steppes of Russia in 1267, and was cheated out of total control of all Russia upon the death of Boris Mikhailovich, who replaced Alexander Yaroslav Nevsky in 1263. However, in 1283, our Czar was passed over due to a clerical error and the rule of all Russia went to his second cousin Daniil (Даниил Александрович), whom Czar still resents. As a half-hearted apology, the Czar was awarded control over Muscovy, inconveniently located 5,000 miles away just outside Chicago. He now spends his time seething about this and writing about other stuff that bothers him.