Enough Already: People Need Work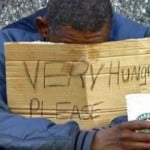 One of the big things that Americans walked away with after this weekend's debates was that the news media is completely moronic.
Newt Gingrich finally called them on it, and moderator Diane Sawyer was embarrassed enough to immediately change the question on gay marriage. However, with Rick Santorum's increasing ascendancy in the polls, the news media is going to keep talking about it because they think this is something that will defeat Santorum.
The news media misjudges the American people. Frankly, most people care little about the subject of gay marriage, even though debate moderators, editorial writers, and bloggers seem to keep going on about it.
Let the Czar be very frank here: the subject of gay marriage is a problem for the idle rich. Just as vegetarianism, environmentalism, and high-speed rail are. Middle class and poor people find these topics not only uninteresting, but off-putting.
This is why gay marriage referenda are defeated in ultra-liberal California: because the idea is supported by only a very few people with control over the media. The people who vote, or in the case of a referendum, the people who matter, are uninterested by this.
The Czar expects mail on this, of course, but look at the numbers. In states where gay marriage or civil unions are recognized, several thousand people have taken advantage of the new law. Meanwhile, tens of millions are unemployed and unable to find work.
To the chagrin of Ms. Sawyer and friends, the typical Sunday morning more millions of people involves racing out to get a newspaper, hurrying home, and moving immediately to the want ads to see if there is any work in manufacturing, administrative work, or delivery—they aren't flipping to the editorial section to see what that crazy Rick Santorum said about gay marriage.
When unemployment is around 3-4%, when Americans are paying off their mortgages, when government spending is at a break-even, and when most people are laying on reclined couches popping grapes into their mouths, then we can argue about gay marriage. Or contraception. Or any of the dozens of other things the news media wants to talk about because it interests them.
If, God forbid, Diane Sawyer finds herself unemployed next week and finding nothing but closed doors, the Czar expects that she won't give a crap about gay marriage—she would rather pay her mortgage and credit card bill as soon as possible. Funny how reality keeps slapping the news media in the face. But some people never learn.
P.S. Obama is adamantly opposed to gay marriage. Where are his questioners?

Божію Поспѣшествующею Милостію Мы, Дима Грозный Императоръ и Самодержецъ Всероссiйскiй, цѣсарь Московскiй. The Czar was born in the steppes of Russia in 1267, and was cheated out of total control of all Russia upon the death of Boris Mikhailovich, who replaced Alexander Yaroslav Nevsky in 1263. However, in 1283, our Czar was passed over due to a clerical error and the rule of all Russia went to his second cousin Daniil (Даниил Александрович), whom Czar still resents. As a half-hearted apology, the Czar was awarded control over Muscovy, inconveniently located 5,000 miles away just outside Chicago. He now spends his time seething about this and writing about other stuff that bothers him.