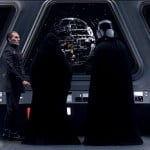 Your Mandarin watched a portion of President Obama's State of the Union address. One portion of the address that struck your Mandarin as disturbing was when the President, after stating that he wanted Congress to put a bill on his desk that guaranteed a simple up or down vote within 90 days for any appointment, went on to state that he wanted to reform the Executive Branch by "eliminating" the bureaucracy.
Now your Mandarin remembers when the barely watchable episodes I, II, and III of the Star Wars saga were released and everyone drew comparisons of the movies to the Bush administration, and how they were a reflection of how the evil conservatives were hell-bent on destroying "The Republic".
The irony is that these people were correct on how the movies reflect on the administration – they just had the wrong one.
Your Mandarin is not saying that the Bush administration doesn't fit into this scenario, it is just that President Bush was much more Chancellor Valorum than Emperor Palpatine.
Think about it. You have a Senator that is able to manipulate a crisis to become the President of the United States. After he takes office, the crisis continues to worsen, but he reassures the Congress that all he needs is a little more latitude and freedom to operate without the constraints of the office of President and the Constitution. And then he addresses a joint session of Congress to ask for the elimination of the bureaucracy so that he can better address the crisis facing the country.
All that is left is for President Obama to announce that he has crushed a plot by the Tea Party to overthrow him, but that it has left him disfigured, and for a greater sense of security and prosperity he is reorganizing the Republic into the first American Empire.
So for those of you playing along at home, yes, Joe Biden would be Count Dooku. We should have believed him when he told us that the Senate was under the influence of a Sith Lord.

The Mandarin, whose real name is 吏恆, joined the order in 1309, and introduced the Gormogons into England during the 18th Century.
The Mandarin enjoys spending time with his pet manticore, Βάρἰκος, or Barry (who can be found in the Bestiary). When not in the Castle…well, frankly, nobody is quite sure where he goes.
The Mandarin popularized the fine art of "gut booting," by which he delivers a powerful kick to the stomach of anyone that annoys him. Although nearly universal today, the act of gut booting or threatening someone or something with a gut boot is solely due to him.