The Clock is Ticking for Holder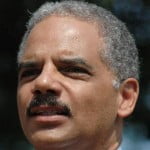 Wow. As people (but not the media) start to go through the latest released information (and there is a lot) on Fast and Furious, the reality is becoming clear: Eric Holder is doomed as Attorney General.
Not only has the President distanced himself over the last few months, but the White House itself released the information most damning to AG Holder. You can bet the White House knows exactly what's in that batch of materials. And the AG should realize the truth: even the President wants him gone and out. That racist president, no doubt, as AG Holder is wont to accuse critics.
Prediction: Holder will resign in disgrace before the election, and the Media will wonder why. Second prediction: the GOP, handed a perfect opportunity to expose the liberal excesses in the Obama administration, will do little or nothing with this. Third prediction: the Obama campaign will scapegoat Eric Holder to dodge the few criticisms from the GOP.

Божію Поспѣшествующею Милостію Мы, Дима Грозный Императоръ и Самодержецъ Всероссiйскiй, цѣсарь Московскiй. The Czar was born in the steppes of Russia in 1267, and was cheated out of total control of all Russia upon the death of Boris Mikhailovich, who replaced Alexander Yaroslav Nevsky in 1263. However, in 1283, our Czar was passed over due to a clerical error and the rule of all Russia went to his second cousin Daniil (Даниил Александрович), whom Czar still resents. As a half-hearted apology, the Czar was awarded control over Muscovy, inconveniently located 5,000 miles away just outside Chicago. He now spends his time seething about this and writing about other stuff that bothers him.