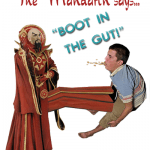 Your Mandarin can't even make it two days into the new year without having to dispense a Boot in the Gut award to some well deserving progressive. The lucky recipient of 2012's first Boot in the Gut is Dr. Hannah Appel of Columbia University in New York.
If you don't think that your college age children are being corrupted enough with progressive fill-in-the-blank studies courses, Dr. Appel will be teaching the new course on the Occupy Wall Street movement titled, "Occupy the Field: Global Finance, Inequality, Social Movement."
There will be three parts to the class:
1. Occupation, Direct Action & Other Tactics
2. On Revolution
3. The Alter Globalization Movement and the Question of Anarchy
Your Mandarin suspects that there should be a fourth part of the class that teaches students how to explain to their parents why they are in jail and need bail money.
If one ever needed a concise example of what is wrong with the current university system in the country, this class is it. Unless you are looking for a job as a revolutionary, community organizer, or anarchist, your Mandarin highly doubts that this course is going to give you any real marketable skills.
And that is probably what is truly wrong with most universities today. Really, ask yourself, aside from engineering, the hard sciences, and business what skills are learned when majoring in philosophy, anthropology, art history, or sociology.
The reality is that these soft sciences and other studies based classes do nothing but enrich the coffers of the university and create the foot soldiers for idiotic movements such as OWS.
So without further ado, your Mandarin along with our sponsors – Dr. Fletcher's Chocolate Colonic, Jones Brothers' Palanquin Emporium, and the Sticky Buns Baking Company – proudly presents the "Bootie" to Dr. Appel and any Columbia University student stupid enough to waste mom and dad's money on this boondoggle.

The Mandarin, whose real name is 吏恆, joined the order in 1309, and introduced the Gormogons into England during the 18th Century.
The Mandarin enjoys spending time with his pet manticore, Βάρἰκος, or Barry (who can be found in the Bestiary). When not in the Castle…well, frankly, nobody is quite sure where he goes.
The Mandarin popularized the fine art of "gut booting," by which he delivers a powerful kick to the stomach of anyone that annoys him. Although nearly universal today, the act of gut booting or threatening someone or something with a gut boot is solely due to him.