Candidate Taketown Redux: The Clown Car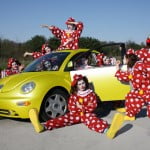 The Volgi's opinion remains unchanged, though Santorum's been better of late. To repeat:
Willard Mittens Romney—Brittle weasel.
Newton Weltgeist Gingrich—Grandiose flake.
Rico Suave Perry—Inarticulate and parochial.
Michelle Crazy Eyes Bachmann—Periodically comes off insane.
Dr. Strangeron Paul—Periodically comes off sane.
Rickroll Santorum—Bitter whiner.

Don't ask impertinent questions like that jackass Adept Lu.