And the Red Shirts Are The Useful Idiots!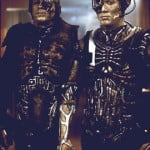 The Czar is not one of those high-school-spent-in-the-locker types like Dr. J, and generally loathes science fiction—but he owns up that he has seen a pretty good portion of Star Trek from 1966-1995 or whatever. The Czar avoided the later shows, and evidently missed nothing.
While painting a skull logo on a box for the Цесаревич, which looks really cool by the way, the weirdest thought struck him. Star Trek is exactly how liberals want the world to be.
Stay with us here. You have this structurally militarized society, with a few in power getting all the attention, and the rest more or less following orders with a specific job and function. Heck, your shirts are even colored. All species, races, genders, and orientations apparently live together in a largely flat society, with some exploring inter-species mating to the silent approval of others, but are otherwise a passionless society. Religion is pretty much non-existent, but somewhat worthy of study should the religion in question be exotic.
Food comes out of the wall; as much as you want, and there is no money. If you want something, a magical box called a replicator makes it for you. Just like that. You want for nothing. Heck, you don't even pay for your drinks. Also, if you have a problem with anything, you can easily circumvent the chain of command and be taken seriously without any real punishment.
Women are there, but are generally childless and in roles demanding intellect. Despite their alleged claims of equality, many are dressed in skin-tight outfits or short skirts. Not because they choose to be, but because the uniform of the day is to keep them retained as traditional sex objects. Today's military is significantly less sexist than the personnel of Star Trek.
Children exist, but only to cause problems and mischief, divert a single parent away from his or her duties, or are locked away in classrooms all day learning to function as a worker bee. You know, kids are a really bad idea. You hear it all the time on the show.
To boldly go where no man has gone before; yeah, throw in a Vulcan and you got your Progressivism theme right there.
And despite some anthropological motto called the Prime Directive, your goal is to interfere in any primitive culture you can. Bring them up to your level, if you like. Tangle in their politics. Show them their society is backward. If they are already developed, you expect them to cooperate with you. If they are exotic and different, you celebrate that and decorate your spacious, free, and well-furnished quarters with their sacred art. If they are more developed than you, they are certain to try to kill you.
Who are your everyday enemies? You have the Klingons, who of course are an aggressive, traditionally minded society that does not avoid violence when challenged. That is bad, until of course they see the error of their ways and suddenly become cool and everyone thinks their bizarre rituals are awesome. You have the Romulans, who are a legalistic society based on rules, congressional committees, law and order. We hate them. Also, you have the Ferengi, who are nasty critters that expect profit, trade, and competition to the avoidance of loss. They are unpleasant because they like capitalism. See how they treat their females? What jerks.
Of course, this is a world of pure fiction, but this is what liberals want to live in. Ironically, the most Star Trek of analogies to liberalism is the Borg: a faceless society that forces you to join them against your will. A single, collective thought, with no independence or variation, and no individuality. Anything outside of this must be either converted or destroyed. The liberals unwittingly write their own reality into their fictional world, and make themselves nearly unstoppably evil enemies.
Conservatives are the Klingons, Romulans, and Ferengi. But, you will note, they can be converted and pacified over time. The only creatures that cannot be saved are the Borg—the liberals themselves. Except, apparently, in one of the later shows: they converted one back to a human, and was she ever hot.
If it weren't for you meddling conservatives and your silly Constitution, Obama would take us to this paradise in just a few months.

Божію Поспѣшествующею Милостію Мы, Дима Грозный Императоръ и Самодержецъ Всероссiйскiй, цѣсарь Московскiй. The Czar was born in the steppes of Russia in 1267, and was cheated out of total control of all Russia upon the death of Boris Mikhailovich, who replaced Alexander Yaroslav Nevsky in 1263. However, in 1283, our Czar was passed over due to a clerical error and the rule of all Russia went to his second cousin Daniil (Даниил Александрович), whom Czar still resents. As a half-hearted apology, the Czar was awarded control over Muscovy, inconveniently located 5,000 miles away just outside Chicago. He now spends his time seething about this and writing about other stuff that bothers him.