XKCD.com's Christmas Cheer…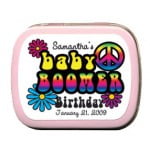 GorT is fond of talking about generational politics, as was introduced to him by GorT 0.6b. (aka GorT, Sr.).
The rest of your Gormogons (Gen X'ers all) have bitched about cleaning up the mess that is the Baby Boomer Generation.
They are the living argument for taking the title of 'Greatest Generation' from the WWII generation, because while the 'Greatest Generation' saved us from Hitler and Stalin, but they did not save us from their kids.
Nevertheless. XKCD posts an interesting infographic. The x-axis is time, in decades and the y axis is number of songs from that decade.
They did a histogram top 20 christmas songs played on the radio between 2000 and 2009, sorting by year of release. Their commentary is spot on:
Every year, American culture embarks on a massive project to successfully recreate the Christmases of the Baby Boomers' childhoods.
They then have hidden text when you place your cursor over the image.
An 'American Tradition' is anything that happened to a boomer twice.
That about captures the asshattery that is the Baby Boomer generation and how they've caused utter economic and cultural stagnation as they've built their idol to Mammon, which is not a Golden Calf, but rather a Golden Mirror.
Other than The Little Drummer Boy, Dr. J.'s list does not overlap at all with the Baby Boomer Top 20. The version they are probably referring to is the The Harry Simeone Chorale classic version, which, truth be told is the gold standard, as seen here…
Now go to the You Tube site. The many of the comments there make XKCDs point exactly. The commenter writes:
I was born in 1959……..my Dad played this on Christmas Eve as long as I can remember. He still has the original LP to this day. I would further have to say next to "I'll be Home for Christmas" this is my favorite Christmas song. The words to this song have so much value. The music only compliments the entire work.
Another boomer gushes
Like so many others who posted, I first heard this in 1958 the year it was released and this is still my favorite version. I was 7 years old then and it still captures the magic and the joy of Christmas for me.
Dr. J. may be cherry picking, but of this you can be sure. His list does not overlap with the Boomer top 20.