A White House Christmas: Silent Cal Style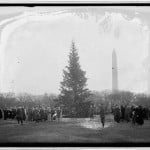 Merry Christmas, Gentle Readers!
Dr. J. and your Gormogons are enjoying Christmas today with Christmas Mass (we actually took in the children's vigil yesterday afternoon where the Lil Med Student brought up the baby Jesus and laid Him in the manger), the opening of gifts (Mrs. Dr. J. received
precious metals
to diversify her portfolio against a declining dollar, the Lil Resident received an
iPod
and the Lil Med Student scored the
Lego Millenium Falcon
). Tonight, in the J. household there will be feasting on
roast beast
,
root vegetables
and some
riesling
.
Dr. J. wanted to share some snippets from Christmas in the 1920s. Charles C. Johnson, who is writing a biography on President Calvin Coolidge
wrote a terrific article
on how Silent Cal kept Christmas as President.
He quotes Coolidge's autobiography as he mused on his first White House Christmas:
Calvin Coolidge loved Christmas. Christmastime was a "sacrament observed with the exchange of gifts, when the stockings were hung, and the spruce tree was lighted in the symbol of Christian faith and love," he wrote in his Autobiography.
Here is a taste from the President's First Christmas Message in 1927:
"Christmas is not a time or a season but a state of mind. To cherish peace and good will, to be plenteous in mercy, is to have the real spirit of Christmas. If we think on these things there will be born in us a Savior and over us all will shine a star sending its gleam of hope to the world."
And from 1930 he wrote in his national column:
"Every day has been numberless times a birthday. Only a few are widely celebrated, for it is not the event of birth, but what is done in after life, that makes a natal day especially significant." We celebrate Christmas, Coolidge wrote, "wherever there has been a vestige of Western civilization, because on that day was born one who grew to be the only perfect man and became Savior of the world. . . . No other fact, no other influence in human experience has compared with the birth and life of Christ."
What Dr. J. appreciates is that the 1920s were a simpler era where Harding and Coolidge reeled us back in from the first encroachment on our liberties by the Progressive movement.
Silent Cal had a sense of the sacred and a respect for something bigger than himself. His humility made him a great president.
Again, Merry Christmas to you and yours, and thank you, again, for frequenting the Castle!