What Romney Can Do To Win Back Voters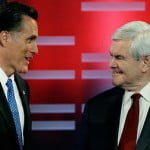 The Czar can go off all the time on left-wing editorials because there is just so much there, there. But the Czar isn't happy to see similar slanted crap in right-wing editorials. The Czar, for example, loves to read anything by the talented Alana Goodman, but her essay entitled "Right-Wing Talkers Turn Against Gingrich" is the same sort of misleading bias that we so detest in other publications.
Her story is worth telling, and the premise equally interesting: radio host Glenn Beck accused Newt Gingrich of being a progressive cut from the same cloth as Barack Obama; also, radio host Michael Savage offered Gingrich one million dollars to drop out of the race, as an Obama v. Gingrich campaign will surely result in four more years for Obama.
And that's it. That's the whole story. Two hosts, out of about three dozen prominent conservative or libertarian talk show hosts nationwide. Is Goodman's title technically correct? Yes: right-wing talkers did turn against Gingrich if you assume the plural means more than one. But is it honest? No, it betrays an anti-Gingrich tone to the piece.
To be honest, Goodman mentions that her story contains only two examples; but the headline is intended to suggest that a significant number of talk shows hosts are against Gingrich. Not the case, by any means.
Gingrich is riding high(er) in the polls right now, as you know. And this could actually be a good thing for Mitt Romney—Saturday's debate showed that Romney is pretty suave and smooth when he is in first, but he is a nervous, twisty, little man when in the second slot.
The Romney campaign can take a lot from this: one—Americans do not apparently care for his smug dismissals of his flip-flopping. They want to know where Mitt Romney stands on things; and like it or not, Rick Perry was right that Romney has recently edited his book to cull out less attractive things. He is shifty, and people know that the Obama campaign can leverage that. Two—Romney is being watched. And no matter how much he yells that he is a die-hard, right-wing conservative, his record as a Republican governor in a highly liberal state stands. The people do not want conciliatory shenanigans anymore, and his slipping poll numbers show it. Three—Gingrich is growing popular because of his aggressive debating style. People are convinced—without good reason, actually—that Gingrich will clean the clock of Barack Obama during a one-on-one debate. People are still mad about kindly Uncle John McCain, it seems. Romney, by choice, has been a quiet, calm, and deflective opponent during the debates up until last weekend, and people sense this will not be enough. They want to see the Most Intellectual President Ever smacked down and schooled by someone who seems to know math, cause and effect, and logic. And these same people think (with good reason) that Romney isn't that guy.
Yes, of course, all that applies to Newt Gingrich as well: Gingrich still doesn't clarify where he stands on many issues, his own voting history is reason to think he surrenders more than he compromises, and Obama's faux-homespun simplification will be popular against Gingrich's single answer in thirty-seven parts.
But rather than watch Gingrich rise to number one in the polls, Romney would be wise to watch who else is coming up. Perry, Bachmann, and Santorum are quietly drifting upward around the country—and assuming that the public will get tired of Gingrich after the holidays when we really get to know him, the public will shift to the other more conservative candidates. And this is where Romney can most improve: drop the friendly, smooth, granddad schtick and start working on a really conservative message, model, and campaign. It won't cost him much, with his name recognition, but will start to win back the thousands (if not millions) of conservatives who really fear he will be the Governor of Massachusetts all over again.
For ultimately, the biggest problem Romney and Gingrich have isn't each other—it is themselves. And Romney is much better able to change what kind of president he might be.

Божію Поспѣшествующею Милостію Мы, Дима Грозный Императоръ и Самодержецъ Всероссiйскiй, цѣсарь Московскiй. The Czar was born in the steppes of Russia in 1267, and was cheated out of total control of all Russia upon the death of Boris Mikhailovich, who replaced Alexander Yaroslav Nevsky in 1263. However, in 1283, our Czar was passed over due to a clerical error and the rule of all Russia went to his second cousin Daniil (Даниил Александрович), whom Czar still resents. As a half-hearted apology, the Czar was awarded control over Muscovy, inconveniently located 5,000 miles away just outside Chicago. He now spends his time seething about this and writing about other stuff that bothers him.