The Volgi's Castle Christmas Tree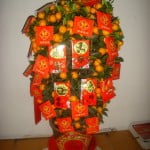 Confucius, our Œcumenical Volgi (The Notorious ŒV) is kicking his Christmas tree old school style. He is sporting a traditional Cantonese money tree. This tree is typically brought out by single Chinese individuals for the Chinese Spring Festival. Red envelopes are hung from the trees for married couples to give money to in denominations of 8, 88, or even in 888 yuan.


The Volgi is happily married, so any yuan slipped into the envelopes will be mailed to the St. Labre Indian School, the Volgi designated charity this year, and a sentimental favorite of Dr. J. as Papa J. was a
donor to the same charity as Volgi.