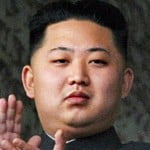 Well, we finally get to see what Kim Jong Ŭn (김정은) looks like. In more ways than one.
This morning, some radio pundits were warning listeners that we have to wait and see what happens in North Korea; the order of succession is not very clear, and the powers that were covering for the doddering, addled Kim Il Jong are not about to turn over the keys to his punk kid. There could be real drama as the two sides vie for power.
Nonsense. Kim Jong Un was already positioned to be in power long before the world even discovered he was alive. The Norks announced his arrival on the scene in June, 2009; believe us, the North Koreans already had all the internal paperwork filed and all internal disagreements settled by this point. When the ultra-paranoid North Koreans announce something, it is because the matter is settled.
Back then, the Czar expressed worry that the unusually young leader would be more batshit crazy than his old man. Last night, the Czar reassured you that he would certainly not be the same level of crazy or less. Here is why.
Because he needs to prove himself stronger and more fearsome out of the box. He was named a four star daejang only a couple of years ago, which concerns the ancient military leaders. Is he too young? Already his response has been to announce a rapid expansion of the army. Bad news, everyone: big armies in small countries get bored fast.
He fired a missle of the east coast of the peninsula today in demonstration that he is not to be trifled with. The North Korean miltary respects this.
Despite warnings from the media that the country's transition must be unstable, or that the nukes could get loose, or that the young man is a puppet of some junta, the reality is that the media is almost consistently wrong about Korea because they know little of its history, whereas the Czar, might we be so bold, tends to be consistently correct on it.
So here it is: the transition will be swift, decisive, and without fuss. News out of the North will die down except for the usual propaganda. And Kim Jong Un will prove himself to be a young man of incredible cruelty and severity—because that is what an old-time Korean ruler does. And the world will do nothing to stop it.
Until he provokes the world with another traditional North Korean tantrum that leaves innocent people dead; then we will wring our hands once more and ask What is to be Done? The answer is nothing, and the furor will die down. And history will repeat.
The best approach for the State Department, which to its credit seems to have a more-than-China approach to world affairs lately, is to take this as a worrisome sign. But appeal to Kim's baser instincts as a Korean: ensure that outsiders will not take over his country, that they will not fall under either Chinese or Japanese control, and that he and his family will be protected from harm should he begin a systematic reform of the country that slowly takes him and the military out of power. He has enough experience outside the country to appreciate these ideas.
But do not expect North Korea to transform itself to a US-like economy. Or even a Japan-like economy. Heck, South Korea isn't all that friendly to its own people sometimes: Korean government is all about connections, promotions, and corruption. Cruelty, and demonstrations of it, serves as a useful reminder of Confucian hierarchy. We should be neither excited nor terrified of the transition of power; rather, we should be terribly disappointed that history in Korea always repeats—by careful design.

Божію Поспѣшествующею Милостію Мы, Дима Грозный Императоръ и Самодержецъ Всероссiйскiй, цѣсарь Московскiй. The Czar was born in the steppes of Russia in 1267, and was cheated out of total control of all Russia upon the death of Boris Mikhailovich, who replaced Alexander Yaroslav Nevsky in 1263. However, in 1283, our Czar was passed over due to a clerical error and the rule of all Russia went to his second cousin Daniil (Даниил Александрович), whom Czar still resents. As a half-hearted apology, the Czar was awarded control over Muscovy, inconveniently located 5,000 miles away just outside Chicago. He now spends his time seething about this and writing about other stuff that bothers him.