That about sums up New Jersey…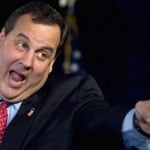 The Garden State is a rich and varied state made up of diverse cultures, kinda like Yugoslavia…
Growing up in the Philadelphia area as a yout' Dr. J. saw New Jersey as two states:
North Jersey vs. South Jersey
609 vs. 201
Phillies/Eagles/Sixers/Flyers vs. Mets/Giants/Knicks/Rangers/Islanders/Devils (didn't know any Jets, Nets or Yankee Fans from the 201, seriously)
No accent vs. New York accent
and most importantly
North of 7A vs. South of 7A
This little infographic can teach you a lot about New Jersey. It is hillarious because it is totally true. @jedmo can verify this for certain.
Indeed, North Jersey and South Jersey have a linguistic divide, as well. Indeed, some guy named Rick Aschmann has the entirety of North America mapped out.

If you want to hear the nuances in what is perceived as the monolithic NJ accent, go no further.
This video can teach you more than you EVER need to know.