The Sidekicks' Christmas Trees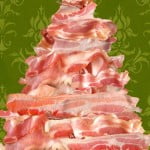 Given how infected with the Christmas spirit your Gormogons are this year, with GorT's Advent Calendar, Dr. J.'s Christmas singles, Volgi's Christmas albums, and other various and sundry Chrismassy posts past, present, and yet to come…Dr. J. doubts you could imagine us not sharing our sidekicks' trees.
First on the list is the tree we made for Sleestak. As all he is good for is eating, we made for him a bacon tree from Dat Ho's yearly bacon ration. Don't complain Dat Ho, this is the season for giving! Sheesh.

Next we come to Dat Ho. We decided he could have a tree as well. The Czar mugged a beagle and a couple of kids with alopecia for Dat Ho's tree.
Last but not least, we come to 2-1B's tree. We weren't sure if it was a Christmas Tree, or a droid equivalent of a 'Real Doll,' whatever…but we'll take what we can get!