Reflectons on a Debate Unwatched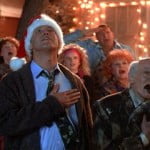 Well, um, okay.
The simple truth is that the Czar did not watch the GOP debate last night; he elected to watched the marginally censored (but still uncomfortably dialogued) National Lampoon's Christmas Vacation on the Family Channel. The kids know it is one of our favorites, and have been begging to watch it on DVD. The Czar allowed them to watch it under the impression that some scenes or words would be cut. Some were; some were not—but why does a word like "ass—" get the innocent word bleeped? On the other hand, didja notice that "G—damned" also has the wrong word bleeped? How offensive is the word God, compared to ass?
Anyway, he missed the debate. And from the scores of complaints about moderator Diane Sawyer, perhaps that was good. But a pattern is emerging from the debates that the Czar might like to have seen occur: definite holes punched through Mitt Romney's armor.
Santorum (in particular), Bachmann, and Perry seemed to have a very good night, scoring major points; Gingrich seemed a bit off his game, although a lot of people who, ahem, did watch the feud this evening seem to agree he wound up looking sharpest. But everyone wants to know what the heck happened to Romney? His bizarre and misfired attack on Rick Perry seems to have everyone thinking old Stainless Steel might be a bit of a jerkwad. Blasting Perry once again for the long-settled Gardasil discussion, and then following it up with a $10,000 wager? Whiskey tango foxtrot was all that about?
Followup polls over the next few days are bound to be interesting. Let us see who moves up, and how far Romney downshifts.

Божію Поспѣшествующею Милостію Мы, Дима Грозный Императоръ и Самодержецъ Всероссiйскiй, цѣсарь Московскiй. The Czar was born in the steppes of Russia in 1267, and was cheated out of total control of all Russia upon the death of Boris Mikhailovich, who replaced Alexander Yaroslav Nevsky in 1263. However, in 1283, our Czar was passed over due to a clerical error and the rule of all Russia went to his second cousin Daniil (Даниил Александрович), whom Czar still resents. As a half-hearted apology, the Czar was awarded control over Muscovy, inconveniently located 5,000 miles away just outside Chicago. He now spends his time seething about this and writing about other stuff that bothers him.