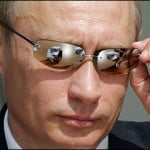 Dear News Media, you think to yourself, with all this talk about Michelle Obama breaking the jumping jacks record, and all this stuff about Tim Tebow, what the heck is going on in Russia?
While the News Media blinks back in typical uncomprehension, the Czar should answer that it's pretty big news.
As you know, your Gormogons are no fans of Vladimir Putin—whom our fellow countrymen have elevated to nice guy status because we don't want to risk making Russia a new enemy. Fact is, of course, Putin despises the United States for old and imaginary reasons.
Putin was elected because he mastered old-Soviet media: television and papers showed him in judo gi, or shooting high-powered weapons, or wrestling the Czar's grandmother barehanded: it was a trick he picked up from Ronald Reagan. And Russia decided they wanted a "strong man" to be president, as they feared that Boris Yeltsin was becoming too much off a weak, hard-party goofball like his American counterpart, Clinton. And it worked: Putin won, and immediately became a statist bastard—profiting immeasurably off nationally owned gas, oil, and other futures. The entire Putin presidency is largely a case of what benefits Putin. The Russian people rate about 87th on his list of priorities. Protestors disappeared, investigative reporters were murdered, and business competitors vanished.
And Putin has not played well with the international community: he stomped on Georgia, strengthened Iran, and weakened the United States at every opportunity. Insiders tell your Czar that it isn't America's military he fears in the slightest; instead, he thinks American business could rule the world, and he is waging a cold war across board room tables with us. For Vlad, nothing has changed: the state controls the industry, the media, and media, we are still fighting America, and the Russian people are stupid.
Okay, fine—Americans thought—eventually the Russian people will get sick of him and his Единой России (United Russia) party, vote him out of power, and we will be rid of him while he retires on a beach somewhere, refuting charges of corruption thousands of miles away back home.
And so the parliamentary elections came, with widespread acceptance that Putin's time had come and gone, and that Russians would be looking for a new leader. Except, somehow, Putin won—and Florida judges are instinctively looking for hanging chads. Putin must have smirked at the outcome.
Except, it turns out, Russians aren't as stupid as he hoped: tens of thousands are taking to the streets in open protest of the election results. And the strong man doesn't seem to know what to do: he can easily make a dozen or so people disappear, but not this many.
Putin has already blamed Hillary Clinton for triggering the revolt, blamed the news media for inaccurate reporting, and his on-again/off-again puppet president Dmitry Medvedev promised to look into the charges. Beyond that, he has let the protests swell to numbers the rest of the world has not ignored.
Everytime a crowd gathers in protest near the Kremlin, world history changes: now is no exception, and nearly everyone realizes this. Putin was caught, evidently, in a lie—and now the Russians want him held accountable.
Certainly, some in the American news media are watching, and are trying to sell this as some Slavic Spring—a play on words they came up with to link it to the Arab Spring (a phrase they did not invent). So clever. But what is occuring in Russia is quite different from what happened in Tunisia, Egypt, Libya, Yemen, and Syria—and much more optimistic.
Putin has two choices: he could squash the protests and finally become recognized as the asshat he is, or he can let them swell in number until he leaves the country. Already a fresh wave of candidates has become emboldened in a country where, only months ago, they would have been embalmed. And if Russia shifts to a more pro-American, pro-capitalist government, this is also bad news for Iran.
Keep your eye on Russia. Curious things are afoot, and will mean much to us.

Божію Поспѣшествующею Милостію Мы, Дима Грозный Императоръ и Самодержецъ Всероссiйскiй, цѣсарь Московскiй. The Czar was born in the steppes of Russia in 1267, and was cheated out of total control of all Russia upon the death of Boris Mikhailovich, who replaced Alexander Yaroslav Nevsky in 1263. However, in 1283, our Czar was passed over due to a clerical error and the rule of all Russia went to his second cousin Daniil (Даниил Александрович), whom Czar still resents. As a half-hearted apology, the Czar was awarded control over Muscovy, inconveniently located 5,000 miles away just outside Chicago. He now spends his time seething about this and writing about other stuff that bothers him.