Puter's Castle Christmas Tree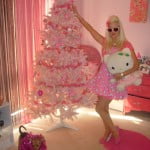 In a police lineup, it would not be hard to pick out 'Puter's Christmas Tree. Our little, lovable Luddite went with a Hello Kitty theme. Here you can see his tree, with Mrs. 'Puter modeling the latest in Hello Kitty fashions (which she found under the tree this year), along with her gift to 'Puter. An FDA approved Hello Kitty lumbar pillow to help his ailing back while he slaves away at work which, if you have read his posts of late, has become quite busy. So busy, that it's been quite some time since his last visceral take down of E.J. Dionne.
Enjoy your Christmas with the family, Puter! Hope that Mr. Scrooge gives you at least a half-day off on Sunday!