Poŝtosako: Mizerikorda aŭ spionado?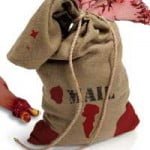 Confucius was enjoying a breakfast of one of the thousand-year eggs he put aside on his fifteen-hundredth birthday when one of our Tcho-Tcho footmen truckled in and, properly averting his eyes, kowtowed and presented Confucius with this letter which had been slipped under the front gate.
In it, correspondent «Sinjoro Butikisto» entreats:
On this day when, huddled in secret all over the globe, Esperanto speakers are quietly celebrating the birth of Dr Zamenhof, son of Poland-Lithuania and creator of Esperanto, I request an amnesty. We would have no objection if you were to substitute "Volapuk" for Esperanto.

Esperanto is celebrating its 125th anniversary next year, so it would be appropriate if your Ancient and Noble Order would make this change from the beginning of 2012.

In the words of Zamenhof: "La nepoj vin benos" ("The grandchildren will bless you".)
Confucius thus replied:
We'll take it under advisement. Volapük sounds less appetizing, its etymology being, obviously, "flying puke." Of course, "Dr. Zamenhof" is clearly the name of a Fu-Manchunian or Bond-grade villain. Don't try and play the Poland-Lithuania card on his behalf, though. You think it's a coincidence he was from there and it no longer exists? [Given that P-L became defunct in 1795, 64 years before the Villain Zamenhof was born in Warsaw, Russian Empire, we think it's possible he was a time-travelling Okhrana spy. Is that likely? Go ask someone who knows math.]
We allow Esperantists may be unwitting pawns in his evil scheme, rather than co-conspirators. We are looking into it more closely, but for now the preventative-detention policy is still planned.
You could, of course, obtain an exemption for yourself, come our seizure of global dominion, by providing [in advance!] intelligence reports on the progress of Zamenhof's plot. We can always use minions. Don't try and play a double game, though. The fiendish and merciless Mandarin is in charge of our counterintelligence. Let's just say he once served the Russian ambassador some Kung Pao NKVD.
Thank you for your kind missive. Tremble and obey.
Yrs., &c.,
孔夫子, Œc. Vol. Gorm.

Don't ask impertinent questions like that jackass Adept Lu.