Old Time Hockey, eh, Coach?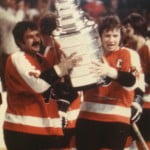 The NHL announced their realignment today. From the look of things, what's old is new again. Traditional rivalries are renewed and the conferences look much like what your Gormogons cut their hockey teeth on as yout's.
CONFERENCE (7 TEAMS)
New Jersey Devils
Philadelphia Flyers
Pittsburgh Penguins
New York Rangers
New York Islanders
Washington Capitals
Carolina Hurricanes
CONFERENCE (7 TEAMS)
Boston Bruins
Montreal Canadiens
Toronto Maple Leafs
Ottawa Senators
Buffalo Sabres
Florida Panthers
Tampa Bay Lightning
CONFERENCE (8 TEAMS)
Detroit Red Wings
Columbus Blue Jackets
Nashville Predators
St. Louis Blues
Chicago Blackhawks
Minnesota Wild
Dallas Stars
Winnipeg Jets
CONFERENCE (8 TEAMS)
Los Angeles Kings
Anaheim Ducks
Phoenix Coyotes
San Jose Sharks
Vancouver Canucks
Calgary Flames
Edmonton Oilers
Colorado Avalanche
Now these 'Conferences' (first to last) look very much like the Patrick, Norris, Smythe and Adams divisions. Dr. J. really hopes that those names are resurrected.
You can quibble with this analogy, but a lot of teams moved jumped divisions (and conferences) during the expansion era. Dr. J. likes the realignment because will really play up geographic and historic rivalries. This will become even more heated come the playoffs because only 4 teams from each conference go into the playoffs, making the regular season more meaningful AND the first two rounds of the playoffs are within the conference, so expect more blood on the ice.
The four conference champions will then emerge to do battle in the round of 4 and Stanley Cup finals.
Anticipate much trash-talking from the Gormogons in the years to come because the Blackhawks and Predators are division rivals, as are the Caps, Flyers, and minion favorite Penguins.
By way of disclosure, the Gormogons are silent partners in the ownership of the Caps.