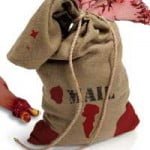 Despite the media's stunned disbelief, Americans continue to be interested in conservative politics in increasing numbers. Almost like peer pressure is proving less effective. Two missives reflect this.
First is Operative TG, who heads up our Counter-Insurgency Force, and who is so personally dangerous that he is only one of two Americans to have mastered the Death Touch in Gnip Gnop, which ironically is not his preferred weapon of choice (he likes a badminton birdie in a sock). But he has this observation on why meaningful political change takes time:
Your Vituperativeness,

No, indeed; changes to government should never be fast and quick.

The process is necessarily a protracted one, because, as Milton Friedman said, "[i]t's nice to elect the right people, but that isn't the way you solve things. The way you solve things is to make it politically profitable for the wrong people to do the right things."

And that will take time. I'm 65 years old. I may not live to see it. I pray that my daughters' generation will.
Exactly correct, and the Czar hopes that everbody's kids will see meaningful reform, et saecula saeculorum. For those whom might miss the secret Federalist Papers code in TG's steganography, he is referring to the very real strategy implicit in the checks and balances. Specifically, our government was intentionally designed to thwart rapid (and potentially stupid) change. So when President Obama, our Consitutional Expert in Chief, says that Congress is taking too long for his taste, he betrays how little he understands things. Congress, and seemingly endless partisan bickering, is exactly what our Founders wanted. And when Newt Gingrich states that compromise is the only way to get stuff done in Washington, he is correct. It's all there in the Federalist papers.
After a bit of an absence while he looked into what happened to our Roomba assault army (they were stalled at a staircase), Operative JS writes in:
Dear Czar,

I enjoyed your post (as always) on the Tea Party and Newt- thank you for the illumination. I saw this bit: 'Changes to government, liberal readers, should never be fast and quick. That is a recipe for backlash and disaster; this alone can define the Obama administration. But careful reform takes 20 years, at least, and the Tea Party just started only as early as 2006' and I was even more impressed. This does seem to be a current of thought in government- "we hated the last guy, so let's vote in this new guy and try to fix it all overnight, with commercial breaks, so then we can go to sleep afterwards".

It also shows why long-term bills don't work- it's easy to say we'll cut taxes in ten years, but harder still to carry it out. And, it makes fools out of some politicians (Hillary in anti-war debate during the presidential primary- "well, I did vote for it, but…"). It's good that some people (on our side) aren't being short-sighted.

Keep up the good work! Please try not to vaporize any more of my dogs from your tower atop Mt. Trashmore. People are getting suspicious.

God Bless
Thanks to both TG and JS, who would be very much good company at a decent coffee shop. Once again, our readers are able to prove they are the smartest group of folks out there. Except Jeff Abermann, who really needs a punch in the mouth.

Божію Поспѣшествующею Милостію Мы, Дима Грозный Императоръ и Самодержецъ Всероссiйскiй, цѣсарь Московскiй. The Czar was born in the steppes of Russia in 1267, and was cheated out of total control of all Russia upon the death of Boris Mikhailovich, who replaced Alexander Yaroslav Nevsky in 1263. However, in 1283, our Czar was passed over due to a clerical error and the rule of all Russia went to his second cousin Daniil (Даниил Александрович), whom Czar still resents. As a half-hearted apology, the Czar was awarded control over Muscovy, inconveniently located 5,000 miles away just outside Chicago. He now spends his time seething about this and writing about other stuff that bothers him.