Merry Christmas, and We Mean Everyone!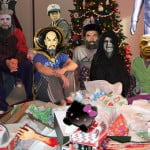 Merry Christmas. It is a beautiful morning, no matter what. The Gormogons are very excited, and you can see us all gathered around the tree opening our gifts.
Your Œcumenical Volgi, or 孔夫子, for those who came in late, or The Notorious ŒV, for those of you who don't apparently exist, was excited to get a jar of Taoist Cream of Charm from Mandarin, a book of Laotian swear words from the Czar, a 2013 Mayan calendar from GorT, a wad of crumpled up paper from 'Puter, and a jar of ghee from Dr. J. Volgi is excited with these gifts, but decided to run downstairs and push those giant blocks around some more. You know the ones. GorT explained the whole thing like two weeks ago.
A Holly Jolly Ghettoputer, or 'Puter, for those of us who actually read his writing, was delighted to open up a Fabergé Manhattan shaker from Czar, a nutmeg ghee from Dr. J, a CD of Wilhelm screams from Volgi, a pocket chainsaw from Mandarin, and a Blu-ray of Lady Gaga Sings the Classic American Songbook (©2031) from GorT. He was so enamored of the generosity of his friends that he spent the rest of the morning whipping Sleestak with a belt.
The Inscrutably Merry Mandarin, or 吏恆, received a gift certificate to Culver's for 30 burgers from 'Puter, an 1851 butter churn from GorT, flavored Wisconsin apple butters from Volgi, old-fashioned potato pierogi from Czar, and a jar of ghee from Dr. J. Not only did we all forget that Mandy is allergic to butter, but he pointed out that this was probably the worst collection of Christmas gifts he ever received. At one time.
The One-Horse Open Gort, or GorTechie, registered a blip of satisfaction when he tore open his gifts. He got a WD-40 ghee from Dr. J, a jar of KL5 wax from Mandarin, a coupon for a dozen apple cider donuts from 'Puter, a peppermint sugar piece of fiberglass from Czar, and a bag of wax lips from Volgi. It certainly was funny watching tin man smash those wax lips onto his face, because GorT really has no idea where wax lips attach. It was like pin the tail on the donkey, played by sightless aliens who have no idea what a tail is. And eat donkeys.
Don-We-Now-Our-Jay Apparel, Dr. J, was giggling to see what his friends have done for him. Mandarin got him a force lightning grounding and bonding kit, because sometimes you need to get rid of that unused extra, you know? And Czar pleased him with a practice heart, although Czar was a bit evasive on where he got one. Volgi surprised the good doctor with a Sword of Volkhyra, which we all know is a big deal. GorT made the doc's day with a nuclear interferometric sphygmomanometer, which was senstive enough to measure the blood pressure on a freaking tse-tse fly, and 'Puter gave him some ancient medication he found going through an old lady's medicine cabinet. You won't be hearing from her anymore.
And last, your dread and simply awful Czar of Muscovy, the one and only, most humble and Ho-Ho-Horrible Божію Поспѣшествующею Милостію Мы, Дима Грозный Императоръ и Самодержецъ Всероссiйскiй, цѣсарь Московскiй, was honored and sated with his gifts. 'Puter gave him a bunch of discount coupons he found in the paper, GorT gave the Czar a vintage Egyptian kopesh sword, Mandarin gave him tickets to the Chicago Express hockey game (front row, center ice, baby!), Volgi gave him a rare Tang Dynasty longbow, and Dr. J gave him a jar of ghee, which appears to explain why Dr. J. spent most of last night on www.buygheegifts.com/lastminute/.
The day got better! We had a visit from two very rare Gormogons! The Grand Moghul stopped in from his Park Avenue, New York, penthouse to drop off some genuine New York pizzas (don't knock 'em: New Yorkers really do make good pizza), and so did the elusive Prince Tochmas, who poured some of the latest libations they are making in the nightclubs he stalks looking for victims. The Mallort spritzer was quite the hit.
And lest you think we forget, we are Gormogons, who remember everything. The Tcho-Tchos were given smilodon ribs, which they polished off bones and all (easily done, since all they were bones to begin with). 2-1B, the Doc's assistant, was allowed an extra hour of break time, which he spent downloading updates to his operating system. Little Dat Ho was given an onion skin which he was welcome to draw on (if he was careful and didn't crumble it), and Sleestak was, as you know, given a merciless beating with a belt. That actually is something he enjoys. Emily Grace runs our PR department, and she was rewarded for her undying loyalty with most of the afternoon off without pay. Inetef-Te-Henqet, our revivified Egyptian mummy butler, was given a jar of olives. It might not seem like much, but if you were a mummy, you would understand the deep significance of the gesture. By the way, if you want to be a mummy, please contact us.
Did we forget the animals? Heck, no. The Volgi's pet yeti—who is so popular he might one day get his own Twitter account…although to be honest, he cannot spell and once smashed a laptop by pounding it with his fist—received a DVD of Sonny Chiba's Water Cyborg, which he got so excited over that he mauled a visitor and had to be tranked about a dozen times. And Barry, Mandarin's beloved manticore, was given an extra hippie in his daily ration. The cuddly guy was so exicted that he tormented the bastard for about two hours before finally plunging his tail-spike straight through his Haight-Ashbury-scented torso. Then he ate him.
The generosity did not stop, as many of our friends were remembered. Jonathan Last was given a rare copy of X-Men #41, in which Jean Grey appears topless in an experimental art direction gone wrong. Jonah Goldberg was given a lock of Harry Reid's hair (we are not sure why, but it is something he and that Siberian medicine man he hangs around with have been insisting we supply). Borepatch was given a Mandarin-designed 5 gauge fully automatic slug gun and a crate of 500 6-inch magnum loads. That oughta keep him busy for a couple of hours. They have something like a quarter-mile range. Professor Mondo was given The Unpublished Chaucer, which contains all that forgotten creepy tweener porn the Anglicans hushed up in 1493. Uncle Jay was given a DVD of The NHL Guide to Single Mode Optical Fiber Implementation and FC Termination in Spanish. The Feral Irishman was given a little known audio tape of Dale Carnegie's unfinished companion work, How to Really Piss People the Hell Off. And to Brian Dunbar, well, we couldn't decide what to get him, so we just gave him a solid 22-pound gold bar because we have these stupid things laying around cluttering up the place. He can probably find something to do with it, like make a door stop out of it, use it as a paper weight, or maybe put a dozen rooms onto his house. Whatever.
And a Happy Christmas to our regularly submitting minions: MbernadetteE, J Edmo, Blaknsam, Jimmiebjr, Madeleine, Fred, Michael McDonald, Sarah Bellum, the Commish, Bill, and everyone else on Twitter (all 380 of you), and to our regular contributors: JAB and the Holy Ensemble at the DoubleWide, the Holy Roman Emporer, Dr. (KN)J, JTS, MC and SC, FJR, Sky (our Royal Falconer), DT and all the Myrmidons, TG, JS, BG, MS, BlueSun (ya'll know who you are), the Not Really Unholy Ken, SMack, Æ, our Royal Exchequer (and thankfully not our spell chequer) SW, ScottO (who is truly the AgStateSense), dearest of dears Nightfly, GD, MH, ME, Bongburgher, RC, LittleRed1, CN, NR, NB, Mallethead, and our Canadian Reader. Apologies if the Czar did not mention you: always happy to add a few more to our list, so keep writing in! But not Jeff Abermann, who should receive a punch in the teeth for Christmas.
Merry Christmas, everybody. The Czar is back to one of Tochmas's mallort mixers

Божію Поспѣшествующею Милостію Мы, Дима Грозный Императоръ и Самодержецъ Всероссiйскiй, цѣсарь Московскiй. The Czar was born in the steppes of Russia in 1267, and was cheated out of total control of all Russia upon the death of Boris Mikhailovich, who replaced Alexander Yaroslav Nevsky in 1263. However, in 1283, our Czar was passed over due to a clerical error and the rule of all Russia went to his second cousin Daniil (Даниил Александрович), whom Czar still resents. As a half-hearted apology, the Czar was awarded control over Muscovy, inconveniently located 5,000 miles away just outside Chicago. He now spends his time seething about this and writing about other stuff that bothers him.