Mandy's Castle Christmas Tree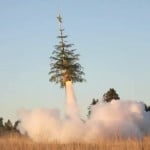 For a look at the Inscrutable Mandarin's Christmas Tree, you have to go to the proving grounds behind the Castle proper. In true Mandarin fashion, Mandy wanted to kill two birds with one stone. His MO has always been to weaponize space, and he has always dreamed of weaponizing a Christmas Tree. Here, he marries the two dreams.
Merry Christmas Big Guy!