Mailbag – East Coast/West Coast, YO!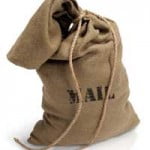 The first letter in today's mailbag comes from Operative ME somewhere vaguely near the Four Corners:
Dr. J.,
As someone who grew up in New Jersey before escaping to Arizona, I found your description of the cultural landscape of New Jersey to be both interesting and accurate; it is a well-known fact that many of the finest observers of the Garden State have their roots just west of the Delaware.
As far as the North/South divide goes, your comparison to the former Yugoslavia is compelling reminding me much of what Simon Winchester called the Fracture Zone.
Taking your cultural map, I grew up almost exactly on the line between "The Hill People" and "Farmers and Subdevelopments"; a heavenly sort of place where the first day of hunting season is an excused absence from school and summer jobs revolve around working on farms and keeping the squirrel population down.
Looking at the map you will note that the region I describe is in the middle part of the state, a twilight zone between North and South, a region called "Central Jersey." Yes we had the 201 area code of North Jersey and while physically closer to New York we considered Philadelphia the "City," watching Philly TV stations and following their sports teams. We saw North Jersey as mere puppets, a satellite state if you will, of that devlish New York. As children we all looked to the northeast glow of North Jersey in the night sky and felt an odd mixture of both menance and pity. Living in a rural area meant that the local high school pulled in kids from schools over a large area so imagine our horror at finding we shared classes from kids further north, kids who followed the Mets and Giants, and whose idea of going to the City meant going northeast to the Big Apple.
To this day I and many others never understood them.
However if the people of North Jersey seemed strange those in South Jersey were even worse, a strange mixture of hubris and despair. You would think the Philly-connection and the rural part of the state would unite us but sadly that wasn't the case. I recently travelled through South Jersey on the way to a function and during the entire afternoon trip felt a compelling need to be back across the state line before nightfall. When I later related this feeling to my brother he only said "You should have known better than going there."
So there you have it, the wierd borderland of Central Jersey, welcome in neither North nor South or as the estimable Dr.Hibbert might have said "Too North for South Jersey, too South for North Jersey."
Operative ME
Dear Operative ME,
Your observations regarding the 'Fracture Zone' or as I used to call it, the DMZ are fairly accurate. So-called Central Jersey is a hodge-podge of individuals that are not truly North Jersey or South Jersey. The majority of Central Jerseyites live along I-195 which is at Exit 7A of the Turnpike The one observation I will make for individuals in Central Jersey is that no matter how far North or South you you live within the DMZ, everyone who is North of you is 'North Jersey' and South of you is 'South Jersey.' It is a real weird existentialist quirk of that swath of the state.
Warmest Regards, Dr. (South) J(ersey)
Our newest Operative, Operative MC (not to be confused with ME), writes in from his forward command center in Jerrybrowninstan.
Esteemed Dr. J-
In case you didn't see this: San Fran Nan stands to make a tidy sum of ill-gotten booty if the House passes something called the "New Alternative Transportation to Give Americans Solutions Act of 2011." The legislation includes $9 Billion worth of natural gas powered vehicle subsidies which would no doubt benefit the Boone Pickens backed boondoggle 'Clean Energy Fuels Corp' of which Queen Nancy is a stockholder. Ms. Pelosi acquired between $50 and $100k of this stock on the IPO launch day in May 2007.
[Former Ghetto-in-the-woods, aka Absecon New Jerseyite and Holy Spirit Grad] Michelle Malkin has the dirt.
While our tribulations pale in comparison to long suffering populations in North Korea, Sudan, etc., we Californians must be suffering some sort of cosmic and/or karmic retribution for past transgressions; no earthly entity would knowingly inflict Jerry Brown, Diane Feinstein, Barbara (call me Senator) Boxer, Antonio Villaraigoso and Nancy Pelosi on its residents simultaneously. Either that or more than half the voting age population is too stupid to live.
Regards, Operative MC
Dear Operative MC,
Thank you for the update. Ya, Archie Bunker, when he described God's divine plan for California back in the '70s said that once all of the nuts and squirrels migrate to California, the good Lord will make St. Andrew break California in half and let the coast fall into the ocean. That way he can say it's St. Andrews Fault (sic.).
Dr. J. has a tremendous problem with not only the callous and unashamed corruption manifest in Washington D.C. where Congress makes itself immune to the laws of the land, profits off of legislation it crafts and short circuits the free market via crony capitalism, but also with the idiots who consistently and repeatedly vote for 'corruptocrats' on both sides of the aisle. They're mostly D's because R's would be either drummed out by the MSM and wailing Democrats, their constituents, or simply shame in being caught. D.C.'s a frickin' cesspool and Dr. J. believes in voting bums out at every opportunity. Sadly gerrymandering and the McCain/Feingold incumbent protection act make it very difficult to challenge an incumbent unless they hang out with Jerry Sandusky.
Thanks for writing in.