Mailbag – Do you know what I know…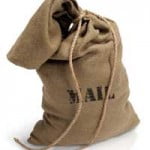 There is just a ton of mail that comes in at Christmas Time. While many of it is checks for our Feed the TchoTcho Fund™, some of it is fan mail for your Gormogons, including for yours truly.
Our first posting comes from aspiring operative MC from beautiful and sunny southern California.
Esteemed, Revered and Wise Dr. J-
May I be so bold as to humbly suggest a couple of Christmas music selections for your consideration? At the risk of a Boot to the Gut™, I offer the following: "A Christmas Gift for You from Phil Spector" – While Phil no doubt had his issues, he knew how to produce that gorgeous AM radio wall of sound. The Ronettes, The Crystals and Darlene Love belt out Christmas favorites like White Christmas, Frosty the Snowman and the criminally underrated Marshmallow World. The kids loved it growing up and still ask for it when they're home during Christmas break. "A Traditional Jazz Christmas" – How can you go wrong with Louis Armstrong doing 'Christmas in New Orleans' or The Velvet Fog wrapping you in 'The Christmas Song'? You can't And finally, my personal favorite "'Tis the Season for Los Straitjackets" – four Mexican wrestling mask wearing knuckleheads from Nashville bash their instrumental way through 13 rockin' Christmas classics. Surf rock intros are especially fun. Highly recommended from here in the southern part of occupied Jerrybrownistan.
Yours sincerely from longtime Gormogons reader and aspiring operative,
MC
Dear MC, we could certainly use a forward operating base agent in SoCal, so consider yourself so appointed. Now with regard to taste in music, you and Dr. J. differ greatly in taste. While he respects your choices, and the artists you mention (especially Mel Torme), he doubts they will make the cut at this point. Keep tuning in for the rest of the countdown though!
Operative DH writes in as well.
Sir,Joe Bonamassa is a wizard. Please hear attached…[Merry Christmas Baby, by Joe Bonamassa]
Operative DH
Dear Operative DH. Thanks for writing in. Mr. Bonamassa is one heck of a guitarist. But I hate to break it to you, he is not a licensed practitioner of the eldrich arts. We occasionally host the Wizard's Guild's monthly meetings here at the Castle on the third Thursday of the Month. He was not here in November when we hosted last. Therefore, he must be acting as a rogue wizard and the Volgi might have to do something about it…
He is an excellent blues guitarist, nonetheless.
Our piece on the toddler's brain got a crazy number of direct hits above and beyond our usual very high volumes of traffic. We received the following missives from two readers of the distaff persuasion.
Hi,I teach parenting classes and would love permission to use your toddler brain graphic. Can you possibly send it to me as a jpeg or pdf or something? It is brilliant!Thanks, FG
AND
Dear Dr. J., The Toddler's Brain drawing MUST be reproduced and sold as a poster….or an original…how do I get one?I work in a frame shop and childcare…I know it will sell. Please share! SG
OK. Dr. J. will give y'all a little peek behind the Gormogon Curtain. Dr. J. discovered the piece when one of his dear friends posted it on Facebook.
It was created, as Dr. J. attributed, to Melissa Balmain Weiner. She is a freelance writer and contributing editor for Parenting and Babytalk magazines. I am sure she can be reached via those websites, with a little digging.
The part about mapping regions of the toddler brain was some Gormogonian humor. The part about doing stereotactic ablations on 'Puter, however is very much a reality.
The picture has popped up much much more frequently in Dr. J.'s internet travels sice we posted it here. Such is the power of our worldwide conspiracy…