Mailbag – Cunning Linguist edition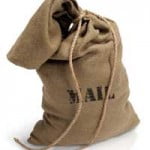 The mailbag is gets pretty full this time of year. Part of leading a worldwide conspiracy is that operatives, minions, lackeys, cronies and flunkies send us Christmas Cards, tribute and coordinates for Mandy to target with various and sundry orbiting rays…additionally, our Christmas postings have been met with much interest and responses…the first comes from Operative KH:
Good afternoon, Doctor,
The XKCD cartoon today was thought-provoking. Fair brought me up short, one might say. I don't know much about what's on the radio — the only stations I listen to regularly are the ESPN affiliate out of Hartford "when I'm quartered safe out 'ere" (no gin, but I got an adequate ration of beer) and WCLV-FM, a commercial classical station out of Cleveland, when I'm home with my family.My top three Christmas albums, though, definitely reflect my childhood in the '60s, and I considered it a treat when I was able to get 'em on CD: Sinatra ("The Christmas Waltz" isn't on XKCD's list, but it's probably the toppermost of the poppermost of mine), Mathis, and Guaraldi. Another interesting (for given values of interesting) is that when people mention more recent Christmas pop music fare, almost no one mentions the Pretenders' "2,000 Miles." I always liked that one.Best,
Operative KH
Dear KH,


Thanks for writing in. With the exception of Guaraldi's ode to winter that is the Charlie Brown Christmas album, Dr. J. went with singles this year. He forgot all about '2000 Miles.' Sorry. That might have displaced something low on the list. Now while his iTunes playlist is actually a couple of hundred songs long, he's left the albums to Confucius* this year. Now, as far as albums as a whole go, Frank Sinatra's Christmas Album is one of Dr. J.'s favorites. He would listen to Friday's with Frank on the right-wing-hate-talk-radio station on the afternoon drives home during his residency. Frank's album is a favorite when Dr. J. is cooking around Christmas time. Dr. J. bought Johnny Mathis tickets for Mrs. Dr. J. for Christmas, so don't tell her. SHHHHH! Dr. J. can't comment on gin, because while he finds the scent of Bombay Sapphire fragrant, he never could find a taste for the stuff, and he tried hard in college. He does like beer, especially handcrafted Belgian beers. Finally, regarding the XKCD cartoon…ya, that was an anti-babyboomer polemic, so there.


Dr. J.


Next comes mail from newly minted Operative MC from the People's Republic of Jerrybrownistan regarding Day 9 of the 12 days of Christmas music.
Dr. J. – Those of us of a certain vintage have fond memories of The Alvin Show, the 1960's Chipmunks cartoon. A couple of episodes are available on You Tube.
Thank for the mail MC, however, Dr. J. is more fond of the '80s Chipmunk cartoons than he is of the original 1960s. He's a child of the era.


Our next letter comes from Operative MS regarding quarterback Tim Tebow.
Dear Dr. J.,I do not follow sports, and until a few days ago I hadnever heard the name "Tim Tebow." But as reported, his religious antics are a source of great amusement.To prevent glare, white-cheeked quarterbacks need topaint the skin just under their eyes black, and the blackbackground offers space for advertising text, such asa reference to a passage in Scripture. I understand thathe wrote "Q3:110" under one eye and "Q98:6" underthe other, but I may have misremembered the exactchapter-and-verse.
The above discussion brings up the theme of how toassess the efficacy of prayer, which is uniquely impossibleto measure because we see only the result (a certainteam winning a certain game), not the input, which isnot constrained by space and time. The favorable gameresult might have been the result not of Tebow's sidelineprayer, but of the prayer by one of the competitive prayerteams in the Andromeda Galaxy several millenia from now.
Warmest Regards, Operative MS
Dear Operative MS,


The scripture passages that you cite Q3:110 and Q98:6 are from the Quran.


Dr. J. favors the Yusuf Ali translation for its conciseness, however your Volgi prefers the Dr. Ghali translation as he deems it the most accurate. 'Puter has spoken with fondness of the Shakir translation, as it is the most lyrical.


Gentle readers, you can dig up the quotes yourself, as out of respect for Islam, they will not be quoted here.
Dr. J. has not heard that Tebow has quoted Quran in his eyeblack given that he is an unabashed Person of the Book. That being said, however, Dr. J. would like to say that if he did, one would have hoped that he would have gotten props from the MSM for being ecumenical. Nevertheless, Mr. Tebow's outward displays of his faith come across as with humility. He's not, to Dr. J.'s knowledge suggested that the Broncos are 'God's team.' There are some pastors who have suggested that the Bronco's, under Tebow's leadership, are God's team. Tebow, however, seems more humble and has taken a different tact: This comes from a WaPo blog:
"Football is his passion. But football is all about winning and losing. Is it Christian to want to beat somebody, to want someone else to lose? He thinks about that for a long time. It is part of God's plan he says, and he says that he plays to "honor" God. "But it is, he admits, "all about winning and losing." I'm very competitive," he says. "You can play to win and still have high character, integrity," he says. "You treat others the way you want to be treated." And, he says, he takes the platform he has been given, treating it as a ministry.Does he pray to win in the locker room before a game? "I've done that many times," he says. What if the other team is praying in their locker room too? It's part of God's plan. "I pray that God will give me the opportunity to encourage someone." He prays that if he wins he will be "humble" and that if he loses, "to be able to give it to Him." His teammates, he says are "really supportive" of his faith, "They are surrounding me." And he says, many of his teammates are of the same faith. "I just try to live it and be who I am."
In other words, he believes that football is a game, and that it is incumbent that all do their best within the rules to win. He hopes that with victory God can give him the strength to be humble, rather than boastful. This is why when we marry, we take our spouse for richer or for poorer, sickness and in health. Sometimes being richer and healthier opens doors for temptation that weren't there when we were poor or sick.


Please note as well, that he speaks with a great deal of humility. He does not prop himself up as a perfect person, and describes himself as trying


The other interesting thing is that Tebow's teammates are supportive of his faith and as he says 'surrounding him.' This reminds Dr. J. of another unorthodox holy warrior, whose teammates gravitated towards her and earned themselves a few unexpected victories, including the battle of Orleans. Dr. J. is talking of none other than St. Joan of Arc. Dr. J. had to read her trial documents during a class on the 100 Years War back in college. She was a devoted practitioner of the faith, insisted that her soldiers attended mass and confess before going into battle. She walked the walk, and they consequently followed her lead. Dr. J. suspects that her influence raised their morale, helping them greatly in battle. Dr. J. suspects that Tebow may have a similar charismatic effect on his teammates. He tries to be as good a person as he can be and it spills over. God helps those who help themselves, after all. Dr. J. doesn't find him sanctimonious, and considers him a likeable fellow. He hopes Tebow can stay on the straight and narrow despite the temptations that wealth and success bring. Dr. J. suspects that Tebow is praying for the same things, as well.


The Czar also sends Dr. J. an interoffice memo regarding the joy that is regional dialects.
Date: December 14th, 2011 A.D. (ed. None of that C.E. crap).
To: Dr. J., Royal Surgeon

From: The Czar of Muscovy, etc., etc.,
RE: The Linguistics Map
We agree with the guy grousing about 2:50 into the video that linguists seem to have trouble breaking down regional accents; he says there are quite a few New York accents, despite linguists' common claim that there's only one New York accent. We can easily tell what borough someone comes from. The Czar totally agrees that linguists are just lazy.
Likewise, the US map you link shows a generic splotch coverage for the Great Lakes region.
No way. Chicago has a North Side accent, a South Side accent, and now largely extinct Rogers Park accent (sounds like Boston… "Rajahs Pahk" that originated from a once heavily Yiddish-speaking community), and the famous Bridgeport accent made popular by Mayor Daley and SNL's SuperFans sketches.
North side = predominantly Polish (de, not the, sausitch, not sausage, etc.)
South side = predominantly Irish (duh, not the, lots of words run together, with unstressed vowels dropped if a consonant cluster will do)
Bridgeport = very localized community, once Irish, but surrounded by enclaves or Italians, Greeks, Black, etc., so there was some island-effect morphing.
American: Did you watch the Hawks game? I loved seeing Dennis Savard drop the puck at the start.
North Side: Joo watch da Hock skeim? I luft seen Dennis Savart drop d'pock yat d'start'.
South Side: Ja watch duh-Hawk skeim? I loved seein' Dense Svard drop de puck attuh start.
Rogers Park: Did yew watch the Hocks game? I loved seein' Dennis Savahd jop d'puck at d'staht.
Bridgeport: Ja watch d'Hahks came? I luft seen Dens Svart drop da pahk at da start.
More Beheadings,
The Czar
Dear The Czar,
Dr. J. agrees with you there, for certain. Mostly because he doesn't want his head on a pike, but regardless of his motives, he concurs. Dr. J. can discern a Main Liner from someone from South Philly or the Greater Northeast. Furthermore, he used to be able to distinguish folks from the eight different provinces comprising Andalucia, Spain. Now he can only tell a Galician from a Catalonian, from a Madrileño, from an Andalucian.
The big map is a work in progress of a hobbyist rather than a tenured professor. Indeed he would probably enjoy a note from you regarding such small scale nuanced differences.