An Interview With A Very Drunk Vincent Clements Jeffords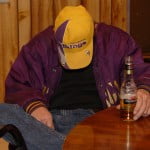 The Czar: What advice would you give the Obama adminstration on stimulating job growth and, assuming there is a relation, bringing down the unemployment rate in an election year?
Jeffords: You know what? You think that Kwiatkowski, or Dennis Whash-his-name with his pedigree thing brought in all that work? Hell, no! I did that, because…I was the guy who made that phone call to Frisco. I talked to Munny in the john, and I shez I called Frisco and they were game to do the deal. Then Munny hands the thing over to Kwiatkowski and suddenly they're the golden boys. They didn' do squat, pal. I did that, but I never shed nuthin.'
The Czar: What do you say to conservative critics of both Governor Romney and Speaker Gingrich, who in some respects have changed their positions less frequently and less dramatically even than Ronald Reagan when he was a candidate in 1980?
Jeffords: That ain't good scotch. You can shpend a ton a money on that Johnny Walker Red, Blue, Green, Purple, Yellow…it still ain't crap. 'Cuz ish a blended whishkey, and the Scots they don't drink that. The shingle malts, like that Lagovulin, or that Glengarry shtuff. That'sh the real stuff. You wanna drink scotch, bigshot, that right there is what you need to get. And some of it is like five g's a bottle.
The Czar: India has been growing its economy and its military at an incredible rate, and might be taking the lead in terms of naval development over every other country. In terms of foreign policy, are we devoting too much attention to China, in the respect that we are not paying enough attention to India? Or is India's incipient superpower status not a factor yet?
Jeffords: Check out that mamacita over there. She's somethin' else, eh? Think she's married? Bet she ish. Bet she ish, and her husband is at home. See that muffin top? That'sh 'cuz she gots kids, like two or three or somethin.' But she's smokin' hot. And her husband is with them kids, and doesn't even know she's here wearing thong underwear because he don't do the laundry. Prolly told him she's with the St. Anne's Auxiliary meetin' or something. Prolly tells guys she's only 30 or somethin.' God, I can't take my eyes of that.
The Czar: Washington seems unable or unwilling to change its internal status quo. At the same time, drastic changes need to be made in the size and shape of government. How can the United States reduce its spending frenzy when entrenched politicians from both parties are politically unmotivated to do so?
Jeffords: Lishen, pal, I gotta buddy in the Navy, and he tells me that…no, lishen…he tells me that every week…every damn week the Navy shoots down a plane load of people just to keep their trigger fingers hot, you hear me? Every week. Ever notice how planes full of people just vanish, like off the radar? And you don't hear anything about it, because the Navy hushes it all up. Even the President doesn't know this. Go ask him; he won't know anything about this. You get into a plane…and wham. That's why I'm driving everywhere now.
The Czar: Reduction in funding for the United States military might legitimately see the United States be less-equipped overall than other countries in the world. Some experts say that we need to move to a more defense-based posture with limited capabilities to take the offense; as such, a reduction in funding might not be bad if it forces us to be more selective about military engagements. What is your view?
Jeffords: I'll tell you what, you…the problem with Drew Breese is the whole problem with the NFL. Every one of them guys is just moving around for the camera. You get Breese, like, say he's on the 30 yard line, and you're thinking field goal, am I right? But instead he runs the damn running play, even with no time on the clock, because he's gotta go do a photo shoot for SportsCenter or whatever. The whole NFL is just screwed up, man. just throw the ball. Throw it, don't run it.
The Czar: Even Democrats are admitting that recent healthcare reforms were a disastrous idea that drove costs up, and that free market systems are better poised to reduce costs. If you agree with this assessment, exactly what steps—and be specific—will reduce those costs?
Jeffords: Hey, you better not be talkin' about my wife. You don't talk…don't talk about my wife, okay? She's a real fine lady. Real good. Don't nod. Don't nod. You think you're better'n me? Hah? Better'n me, 'cuz you went to some college? Well, guess what? I went to college, too, pal. Got a double doctor's in Uh-shtronomy physhishicsh. Physhicsh…ah, you know what I mean. God damn it. Don't look at me like that, like you don't ever screw up a word. I bet you screwed up twenny words today alone.
The Czar: Union labor is being blamed for everything from the collapse of the airline industry, the auto industry, education, and state government revenues. What, realistically, can labor do to reform itself, and (in that context) what can the free markets do to restrict, reduce, or eliminate union labor costs in order to become productive again?
Jeffords: Now what I think? I think they're all messed up with the future, with the flying cars and jet packs crap. I think in twenny years, maybe less, we're all gonna be livin' inside some big-ass televishion shets. Like a virtual thing, right? You wanna go to Rio or whatever, you play some disc. You pop in some skydiving thing. And that'sh how you see your whole world. Everybody in some big Wii, all the time. And they feed you through a rope.
The Czar: Thank you very much for your time. It was a real pleasure.
Jeffords: I can't find my keys. I think I'm sitting on them, but I can't find my feet.

Божію Поспѣшествующею Милостію Мы, Дима Грозный Императоръ и Самодержецъ Всероссiйскiй, цѣсарь Московскiй. The Czar was born in the steppes of Russia in 1267, and was cheated out of total control of all Russia upon the death of Boris Mikhailovich, who replaced Alexander Yaroslav Nevsky in 1263. However, in 1283, our Czar was passed over due to a clerical error and the rule of all Russia went to his second cousin Daniil (Даниил Александрович), whom Czar still resents. As a half-hearted apology, the Czar was awarded control over Muscovy, inconveniently located 5,000 miles away just outside Chicago. He now spends his time seething about this and writing about other stuff that bothers him.