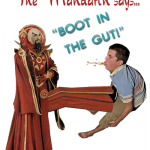 In an effort to keep warm during this cold winter season, your Mandarin has decided to make sure that he gets lots of physical activity. And what better way to warm the body and your Mandarin's heart than a hearty Boot to the Gut for some well deserving liberal/progressive/global warming nut job who decided to make a bunch of children sit in a school with no heat.
And why you may ask would the head of the school – Mr. Rob Benzie – have turned off the heat? Well it was to save the planet of course. You see Mr. Benzie wanted to show the students that by living in conditions that recall those glorious days of England's past – the dark ages that is – they could reduce the school's carbon footprint and thereby save the planet.
The truth of the matter is that the planet doesn't need to be saved, but the human race does from the idiotic ideas of Mr. Benzie and his fellow travelers.
So without further ado, your Mandarin is pleased to present today's Boot in the Gut award to Mr. Rob Benzie at the Ansford Academy in Castle Cary, Somerset. And because your Mandarin does have some sense of decency, this Boot in the Gut is insulated, not so much for Mr. Benzie, but rather for your Mandarin since there is nothing worse than a cold foot when delivering a good swift kick to a progressive.

The Mandarin, whose real name is 吏恆, joined the order in 1309, and introduced the Gormogons into England during the 18th Century.
The Mandarin enjoys spending time with his pet manticore, Βάρἰκος, or Barry (who can be found in the Bestiary). When not in the Castle…well, frankly, nobody is quite sure where he goes.
The Mandarin popularized the fine art of "gut booting," by which he delivers a powerful kick to the stomach of anyone that annoys him. Although nearly universal today, the act of gut booting or threatening someone or something with a gut boot is solely due to him.