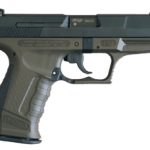 Michael A. Walsh, of the New York Post sums up perfectly what the Czar has been thinking: what if everything US AG Eric Holder testified over the last couple days was true. If so, here is your attorney general: he has no idea who authorized or started Operation Fast & Furious, believes that the Mexicans and American(s) killed by the operation are just the invention of GOP operatives out to discredit him, and that he in no way is accountable for the actions of his department or its personnel. He also does not read his subordinate's communiques or memoranda, and cannot be expected to remember everything a staff member mentions to him about his most risky operations. He also will get to the bottom of it when time permits, but what's done is done and there isn't much anyone can do about it now.
Yikes. Well, at least Eric Holder makes Janet Reno look like a competent professional by comparison. The Czar was kind of hoping that Eric Holder—whose personal history is suitably sordid enough to make such a horrific stunt possible—would resign. But Holder says he has no intention of resigning over something so piffling as trying to start a wag-the-dog war that has killed hundreds of Mexicans and at least one American law enforcement agent in order to increase gun control on regular civilians through entrapment by ATF agents.
That could be a good thing; because with all arrows pointing to Holder as the guy behind a half-assed un-American stunt to increase governmental control over 2nd Amendment proponents, he stands a reasonable chance of one day winding up behind bars himself. Won't that be something.
US AG Holder must be wondering when the President will come to his aid on this one. The total silence from the President on this matter should be any reasonable person's clue that things are really bad for you. In Washington, silence on this topic means "Eric who?" Holder is already the fall guy, but he is too stupid to realize it.

Божію Поспѣшествующею Милостію Мы, Дима Грозный Императоръ и Самодержецъ Всероссiйскiй, цѣсарь Московскiй. The Czar was born in the steppes of Russia in 1267, and was cheated out of total control of all Russia upon the death of Boris Mikhailovich, who replaced Alexander Yaroslav Nevsky in 1263. However, in 1283, our Czar was passed over due to a clerical error and the rule of all Russia went to his second cousin Daniil (Даниил Александрович), whom Czar still resents. As a half-hearted apology, the Czar was awarded control over Muscovy, inconveniently located 5,000 miles away just outside Chicago. He now spends his time seething about this and writing about other stuff that bothers him.