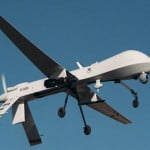 The Czar has trouble following the right-wing and left-wing media's competing narratives about President Obama's (over-)reliance on drone attacks.
The left is worried he is getting too bloodthirsty. The right has a dual message: first, this was actually a Bush tactic that Obama is taking credit for, and two, he is doing this at the expense of boots on the ground.
The Czar is not sure what the big deal here is. Think about it:
He is using them to kill bad guys. Quite a few of them. In fact, quite a few really bad guys.
They can operate for hours without food or water. They require little fuel. They operate at dizzying heights that allow them an incredible ability to see those bad guys from very far away.
Operating a drone is a helluva lot cheaper than losing one American soldier.
We have only lost one drone, appreciably, making their success rate pretty damn good.
In short, they work. If the left-wing wants to complain, they should compare Obama to Bill Clinton, who preferred to pound the snot out of everything with Tomahawk missiles—sometimes with inaccurate results. Tommies are a lot more expensive, and you tend not to get them back: especially when they work as planned.
If the right-wing wants to complain, they could question why Bush didn't use them more often, saving lives and money.
Look, folks, we're kidding ourselves if we think there is some over-reliance on drones. They work, and this has been the future of military aviation for decades. They eliminate the weakest link—the pilot—but retain its strongest link—the pilot. Most manned aircraft, you see, are limited by the physical frame of the pilot: the body can only take so many gs, and pilots need rest, food, and water. Yet, the intelligence, instinct, and ingenuity of a pilot cannot remotely be matched by the best robotic software. A drone is a machine piloted remotely (in most cases) by a live pilot sitting safely at a console. This is a perfect solution.
And the use of them by the President is proof: they work. Incredibly well.
One objection is the President's repeated use of them for assassinations, or "extrajudicial" killings. Okay: what makes these targeted hits any different from a USMC sniper taking out an asset of extreme value to the enemy? So far, we have not exactly been flying Predators through Times Square offing nosy reporters. In fact, all the applications we have seen are military operations against sworn, lethal enemies of the United States.
Also, we seem to skipping several steps, here. The President is not flying these things. He issues a general order, which is taken by the JCS to the DoD. The DoD identifies the targets or conditions of engagement, and issues a series of orders all the way down to a commanding officer who asks a team of people, not just a kid at an Xbox, to ready a drone, get it aloft, and start scanning for opportunities. This is no different than any other military operation; certainly, it follows the same procedures as a Tomahawk cruise missile strike. If there are problems with the order—operationally or Constitutionally—there are numerous protocols in place to stop the action and get clarification.
Let us not get too paranoid here.

Божію Поспѣшествующею Милостію Мы, Дима Грозный Императоръ и Самодержецъ Всероссiйскiй, цѣсарь Московскiй. The Czar was born in the steppes of Russia in 1267, and was cheated out of total control of all Russia upon the death of Boris Mikhailovich, who replaced Alexander Yaroslav Nevsky in 1263. However, in 1283, our Czar was passed over due to a clerical error and the rule of all Russia went to his second cousin Daniil (Даниил Александрович), whom Czar still resents. As a half-hearted apology, the Czar was awarded control over Muscovy, inconveniently located 5,000 miles away just outside Chicago. He now spends his time seething about this and writing about other stuff that bothers him.