The Emperor Has No Clothes: VDH style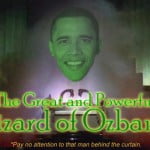 Victor David Hanson is one of Dr. J.'s favorite conservative columnists, primarily because of his ability present his arguments clearly, succinctly, but with a touch of verbal flair not seen in many columnists. He is like a conservative George Will (no offense, George, Dr. J. likes you too, but you are a few notches more to Dr. J.'s left than VDH is), or an upper-middle class Bill Buckley.
Today in his Private Papers, in a brutally honest and forthright manner, he points out that Emperor Obama has no clothes.
On Obama the Healer:
If one were to collate the Obama record on race (from Eric Holder's "my people" and "cowards" to Sotomayor's "wise Latina" and Van Jones's racist rants), it is the most polarizing in a generation. The Obama way is and always was to create horrific straw men: opponents of healthcare reform are greedy doctors who want to rip out your tonsils; opponents of tax increases jet off to Vegas to blow their children's tuition money; skeptics of Solyndra-like disasters want to dirty the air; those against open borders wish to put alligators and moats in the Rio Grande as they round up children at ice cream parlors. There were ways of opposing Republicans without the demonization, but the demonization was useful when followed by the soaring, one-eyed Jack rhetoric about reaching out, working together, and avoiding the old politics of acrimony.
And on Obama the Reformer:
So when Obama speaks loudly about Wall Street criminality, we now snooze — only to awaken knowing Corzine's missing $1 billion, or George Soros's felony conviction in France, or Jeffrey Immelt's no-tax gymnastics were not just never raised, but are exempted through the purchase of liberal penance, in the manner that John Kerry never really docked his gargantuan yacht in a less taxed state, or Timothy Geithner never really pocketed his FICA allowances.
So go read the rest right now. Dr. J. saved you a few juicy surprises!