Dr. J's 12 Days of Christmas Music – Day 9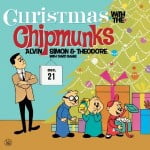 Day 9 brings us our only 'novelty song' of the countdown. For this spot, Dr. J. has chosen The Chipmunk Song (Christmas Don't Be Late), by none other than David Seville and the Chipmunks (aka Ross Bagadasarian). Given the title, Dr. J. is giving you this song early in the day…
Mr. Bagadasarian is an Armenian-American WWII veteran. He was an actor, musician and successful songwriter, who penned Rosemary Clooney's deliciously naughty 1951 hit, Come on-a My House. In the late 50s he discovered the tape-recorder and was inspired to come up with something using it to make a song with sped up voices. Some early attempts were not successful, but then he wrote this ditty which won him two Grammies.
There are a lot of 'did you know's' on Wikipedia (and plagarized blatantly elsewhere) about the Chipmunks:
The Witchdoctor was his first hit by 'David Seville' using this technique
Simon, Theodore and Alvin were named after record execs
He was all the voices on this song, but he used women to sing the parts later. Slowing 45 RPM records to 33 will allow you to hear the original voices.
What the hell is a record, Dr. J.?
This was the last Christmas song to hit #1 on the US Popcharts
Ross Jr. took over the property because he dad died of an MI in his 50s.
They performed in 1958 on the Ed Sullivan Show, and that performance is available on DVD
The Christmas album was not released until 1961
Dr. J. is certain that many of you will be pulling your hair out, rending your shirts and screaming, "I haf' no Gormogon!!!!!1!!!1!!ElEVENTY!!!!!12111!!!!!!!!!" over this pick, but this is Dr. J.'s list.
Dr. J. first discovered this Christmas gem when he was about 2 years of age. He recently learned how to play Crossroads by Cream over and over and over and over again, and when the Christmas season arrived, the Christmas Albums came out, and Dr. J. wore this record out, and would continue to play it into January, February…July…October, driving his parents to descend into Lovecraftian madness.
When the Chipmunks cartoons debuted in the 80s, Dr. J. would watch them, despite being too old for them, and when the new movies came out, like a lamb to slaughter, he lined up to see them in the theaters with his kiddos and proceeded to buy them on DVD. Indeed, he is looking forward to Chipwrecked this Christmas season. Dr. J. cannot explain why he is a fan of the Chipmunks, he just simply is. You have to accept it, even those of us of lofty and discriminating taste have our vices. Laugh if you must, Dr. J. is fine with that. Dr. J. looks equally down on all of those folks who line up for Hangover, Harold and Kumar, and any of the legion of 'gross out' comedies or tunes into the 22 minute network pablum that also is what passes for comedy in 2011 that Dr. J. simply finds unfunny. It's a matter of taste.
So here we are true believers, the one and only Chipmunks: