Dr. J's 12 Days of Christmas Music – Day 7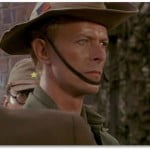 You put your peanut butter in my chocolate!
No, you put your chocolate in my peanut butter!
Wait, they're two great tastes that taste great together.
Just like Reese's Peanut Butter Cups, your next selection is a pretty nifty duet.
Singing and acting great Bing Crosby, who began his singing and acting career in the 1930s teams up with Ziggy Stardust himself, David Bowie to sing The Little Drummer Boy.


This song was originally broadcast as part of Bing Crosby's 1977 Christmas special. According to this Washington Post article, Bowie didn't think this was the right song choice for him so they created the 'Peace on Earth' song that was intertwined with the classic Drummer Boy.
They taped it September 11th, 1977. Bing passed a month later, and it was broadcast a month after that.
The single was released 5 years later.
Dr. J. believes he saw the video around 1982, but for some bizarre reason he thinks he saw it on HBO as filler between movies before seeing it on the MTV.
Dr. J. think's it is a cool duet with two great vocalists from different generations, and The Little Drummer Boy is one of Dr. J.'s favorite songs. And, he loves that little claymation story from when he was a tot.
Now given that a critical mass of our readers who have given Dr. J. pretty significant blowback for his song choices will probably tweet and email, "ZOMG!!!11!!!!Eleventy!!!!!!1!!!! Bingh Krozby without teh WIGHT Christmas!!!!!EleVENTy!?!!?!?!!?"
So there will have to be blowback prophylaxis. Here is Bing's White Christmas to bring your BP down!
And because The Czar likes The Drifter's version better (and by better, he means nominally tolerates it which is a step above what he thinks of all other Christmas Music written since 604 A.D.) and reminded Dr. J. what happened when he was displeased with Sleestak a few days ago…in other words when he got Mandy to fight his battles for him and Dr. J. had to remove a ruptured spleen, cauterize a liver laceration and reanastomose some perforated bowel due to the numerous Boots to the Gut™to the poor troglodyte…this long distance dedication goes out to The Czar…