Dr. J's 12 Days of Christmas Music – Day 6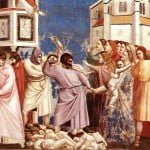 We hit the halfway point in our Christmas Music list. Dr. J. has been happy to see that his picks have met with great interest, especially on twitter. If you aren't a follower, check us out, our twitterbuddies alone are with the price of admission, though the addition of 6 wise Papists should be enough, it's like double the magi.
Dr. J. hopes that this will be the last controversial one. It won't, but he can dream.
Back in the '80s, Dr. J. was a big New Wave and Alternative fan. Truth be told, he still is, and really hasn't liked much of anything released after 1992. When the spectre of nuclear annihilation at the hands of the Soviets, so did good music.
Yaz(oo in Europe) was a synthpop duo comprised of Alison Moyet, on vocals, and Vince Clarke on synthesizers. They released two terrific albums together, Upstairs at Eric's, and, You and Me Both. Ms. Moyet went on to a solo career with an acclaimed first album (Alf), and a few subsequent albums. Vince Clarke, on the other hand wrote everything for Depeche Mode's first album (Speak and Spell) before forming Yaz, and went on to partner musically with Andy Bell to form Erasure after dissolving Yaz.
Today's song, Alison Moyet's cover of
Coventry Carol
, was first released on the original Special Olympics Christmas album. The
Coventry Carol
has its origins in 16th century England.
It is a lullaby in which the singer sings sorrowfully either to or in memory of her infant during the massacre of the Holy Innocents, when all baby boys were murdered by King Herod when he learned of the birth of Jesus.
Alison Moyet's powerful alto voice and bluesy tones really do this song some justice.
Dr. J. knows how to pick the happy Christmas Carols.