Dr. J's 12 Days of Christmas Music – Day 4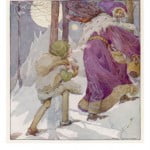 For day four, we're going to borrow GorT's Time Bubble and go back to Mid-19th Century England. Dickensian images of Christmas are iconic, when one says picture Christmas in their head, all of the sugar plum that dance in your head have their roots in the Dickensian/Victorian era. Sure you can trace things back further, but many of the American Christmas traditions made it through the high pass filter of the English Victorian era.
Good King Wenceslas is a song from the period. It is the sort of music you hear in the background of the Christmas Carol and Christmas stories evocative of that period. Indeed, it's the background music of choice for the recent Dr. Who Christmas Specials. Strangely they still do Christmas Specials on the BBC. State religion and all of that…
Lorenna McKennett is a New Age/Celtic Artist. She made a Christmas EP a few years back, and has some Christmas music on one of or other albums. Dr. J. likes her stuff, thus
her version
made the cut.