Dr. J's 12 Days of Christmas Music – Day 2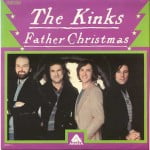 Dr. J. is a child of the '80s. The local classic rock stations would break out the 'Rock and Roll' Christmas Tunes, so they had to dig broadly and deeply to find stuff that would both fit their formatting AND was Chrismasy. The bulk of our list will of this sort of music. Nowadays, everyone has their Christmas Album, OR contributed to a compilation (e.g., A Very Special Christmas series).
Today's song is Father Christmas. It's a catchy rock song from 1977 by the Kinks, who wrote one of Dr. J.'s favorite 1980's anthems, Come Dancing. While it's got a nice beat, it's about a guy who has fond memories of his own childhood Christmases, but when working as a department store Santa, he gets mugged by hooligans who given the hard times they and their families are suffering. So it ain't exactly Shiny Happy People. Indeed Dr. J. was torn between Father Christmas and Happy Xmas (War is Over) by John Lennon, but given how depressing the video was for the Lennon ditty, Dr. J. went with the Kinks for the 'Have yourself a bitter little Christmas' spot on the list.
He's a sucker for New Wave, over ex-hippies any day, despite Lennon's Reagan endorsement.
Without Further Ado, Father Christmas: