Dr. J's 12 Days of Christmas Music – Day 12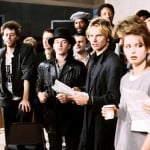 Thank you all for hanging in there during Dr. J.'s Christmas present to himself this season, an indulgent walk down memory lane where he could reflect on the glories of Christmases long long ago, to copy a phrase.
So here we are, on Day 12 with Dr. J's favorite Christmas song. Given that Dr. J. is a child of the '80s and that the soundtrack of his youth was totally new wave with the Police, U2 (pre Joshua Tree), Duran Duran, Peter Gabriel, Culture Club, Genesis, Yaz(oo), Modern English, Pet Shop Boys, Depeche Mode, ABC, etc…there can only be one Christmas carol that can be at the top of his list. That would be Band Aid's Do They Know It's Christmas. This Show Choir piece for new wave artists was penned by Sir Bob Geldof, KBE (Boomtown Rats, I Don't Like Mondays) and Midge Ure, OBE of Ultravox in a response to the horrific scenes of famine occurring in Ethiopia in 1984. This spawned We are the World which pales in comparison, and Live Aid which was performed in Dr. J.'s hometown of Philadelphia. Dr. J. was too young to brave the throngs of humanity, so he tuned and watched the entire thing on TV. Papa J. watched much of it with him and thought those guys in black leather were pretty good, (Black Sabbath) and loved watching U2. Joan Baez, not so much.
The interesting thing about this song is how it was put together. Most of the singers who have a solo line sang the whole song through and Midge and Bob picked the lines they liked and laced it all together.
Wikipedia has a nice narrative and The Songfacts.com website has a nice outline of some factoids that Dr. J. didn't even know, and he took the luxury of doing a little cutting and pasting for your reading entertainment:
The performers who sang verses were, in order: Paul Young, Boy George, George Michael, Simon Le Bon, and Bono. The chorus included David Bowie, Phil Collins, Paul McCartney, Geldof, Ure and many other artists who weren't given a verse but sang the "Feed The World" part and lent their images to the effort by appearing in the promotional photo. (Songfacts)
George Michael released "Last Christmas" around the same time. He gave all proceeds from the song to Geldof's relief effort. (Songfacts)
Sir Bob wasn't happy with the product. "I am responsible for two of the worst songs in history. One is 'Do They Know It's Christmas?', the other one is 'We Are The World'. Any day soon, I will go to the supermarket, head to the meat counter and it will be playing. Every f—ing Christmas."
Trevor Horn, who was a member of The Buggles and Yes, donated the use of his studio to record the song. He also pieced together the B-side of the single, which is an instrumental version with the artists delivering messages over the music. It is called "Feed The World" on the single. (Songfacts)
Merry Christmas to all of our Gormotastic readers.
We hope you enjoyed this countdown which ends halfway along GorT's self-imposed Bataan death march of 24 straight days of posting, something only the Czar has stamina to do. But he can stand it, he is 37 times older than the universe, a perk of being a time traveling robot.