Dr. J's 12 Days of Christmas Music – Day 10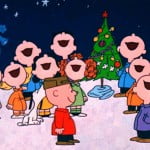 This might be the most requested item on Dr. J.'s 12 Days of Christmas Music.
That would be Vince Guaraldi's A Charlie Brown Christmas soundtrack.
A Charlie Brown Christmas is Dr. J.'s favorite Christmas special of all time. It captures the challenges of maintaining the Christmas spirit while being basked in commercialism. It is both humorous and profound at the same time, and it pretty much set the standard, moving forward for Christmas specials. A standard that is rarely reached. The development of this special was a challenge for Sparky and the crew. Even in 1965, the networks were nervous about broadcasting something so outwardly religious. Recall that Linus recites Lk 2 8-14. This special was a ratings boon for CBS and paved the way for prime time kids programming and specials.
By way of an aside only other self-imposed required viewing by Dr. J. this time of year is the George C. Scott version of A Christmas Carol. This is Dr. J.'s favorite version of the story. Some may like Alastair Sim, better, but Fonzie, Jim Carrey (who was actually pretty good), and Patrick Stewart have nothing on George C. Scott.
Anyway, Vince Guaraldi's album is a true masterpiece that captures wintertime in a musical tone poem.
Dr. J. has included for your entertainment Christmas Time is Here:
And as an added bonus he has added Skating, in which the downward cascade of notes can make you see the snowfall:
And lastly, the Imperial March of Peanuts Music, Linus and Lucy:
Dr. J. always loved the two twin girls that flopped their heads left, then right, then left then right…it cracked him up to no end.