Confirmation, The Bishop and 'Puter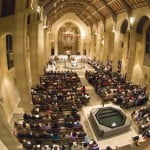 As those of you loyal minions who follow your Gormogons on Twitter already know, 'Puter with family in tow, traveled to the Diocese of Rochester's cathedral, Sacred Heart, last evening to celebrate 'Puter, Jr.'s confirmation.
For those non-Papist minions, the sacrament of confirmation is one of the seven Roman Catholic sacraments. A full description of the theological and religious significance of the sacrament can be found here, for those of you who may be interested.
'Puter is oftentimes moved at the celebration of his Church's sacraments, sometimes to tears. Last night was no exception. Three generations of 'Puter's family were present last night, as were the generations of 'Puter's Catholic relatives who have gone before him, as 'Puter, Jr. formally accepted the Roman Catholic faith as his own. To know that one's son has, of his own free will, chosen to follow what 'Puter and his forbears believe to be not only the One True Church, but also a darned good moral and life compass, is gratifying, humbling, awe-inspiring and fearful, all at the same time.
'Puter's Roman Catholic Church does rite and ritual exceptionally well, and last evening's confirmation Mass was no exception. Bishop Matthew Clark, the concelebrating priests and the deacons were resplendent in their white vestments, highlighted with red, the color Catholics associate with the Holy Spirit. The processional, the vestments, the chrism, the Mass with the new Roman Missal, the church's decoration, all contributed to the joy and solemnity of the occasion.
'Puter was also proud to see his youngest serving as an altar boy, processing with the bishop, preparing the altar and even holding the bishop's mitre. Mrs. 'Puter was asked to cantor, and she did her usual exceptional job, even with horrendous material (Taste and See, (lyrics); some random crappy Caribbean setting of Alleluia, wrongly thought to be properly singable by middle aged American white people). It's always affirming to see one's loved ones participating in worship.
We Roman Catholics traditionally take a saint's name as a confirmation name. 'Puter chose Joseph, patron saint of fathers and a good death. 'Puter, Jr. chose Ignatius, after Ignatius Loyola, founder of the Jesuits, the Catholic order of priests that have taught most, if not all, of your Gormogons at some point in their education. So he's got that going for him.
All in all, despite 'Puter's burning dislike for the bishop and his mandated time and place of granting the sacrament, the Mass was wonderful. And that was 'Puter's takeaway from participating in his son's confirmation. His Roman Catholic Church succeeds in spite of itself. That is, the Church is comprised of flawed humans, and as such is subject to horrendous errors on matters large and small. God's unceasing love for His people, as well as His divine presence, is manifest through His Church, in its people, its rites, its rituals, no matter how horribly we screw things up.
And in this realization, that God succeeds in reaching His people — no matter what, 'Puter takes great comfort.
*The picture accompanying this post is a fish-eye lens view of Sacred Heart's interior taken from the organ/choir loft. Please note the organ located in the place where a Roman Catholic church's high altar is traditionally located. 'Puter challenges you to attend a Mass at Sacred Heart and not be distracted by the organ's irrational place of prominence in the cathedral. The organ has been made the central focus of the church, at the expense of the Most Blessed Sacrament. But, really, what was Bishop Clark to do? It's not like there's another place in the church where he could have located the organ, like an organ/choir loft. Like the one from which this post's picture was taken. For a better understanding of just how massively and inappropriately prominent the organ is, here's a picture of the aforementioned organ, up close and personal.
**The giant, jacuzzi-like baptismal font is also a visual train wreck, but that's for another time.

Always right, unless he isn't, the infallible Ghettoputer F. X. Gormogons claims to be an in-law of the Volgi, although no one really believes this.
'Puter carefully follows economic and financial trends, legal affairs, and serves as the Gormogons' financial and legal advisor. He successfully defended us against a lawsuit from a liquor distributor worth hundreds of thousands of dollars in unpaid deliveries of bootleg shandies.
The Geep has an IQ so high it is untestable and attempts to measure it have resulted in dangerously unstable results as well as injuries to researchers. Coincidentally, he publishes intelligence tests as a side gig.
His sarcasm is so highly developed it borders on the psychic, and he is often able to insult a person even before meeting them. 'Puter enjoys hunting small game with 000 slugs and punt guns, correcting homilies in real time at Mass, and undermining unions. 'Puter likes to wear a hockey mask and carry an axe into public campgrounds, where he bursts into people's tents and screams. As you might expect, he has been shot several times but remains completely undeterred.
He assures us that his obsessive fawning over news stories involving women teachers sleeping with young students is not Freudian in any way, although he admits something similar once happened to him. Uniquely, 'Puter is unable to speak, read, or write Russian, but he is able to sing it fluently.
Geep joined the order in the mid-1980s. He arrived at the Castle door with dozens of steamer trunks and an inarticulate hissing creature of astonishingly low intelligence he calls "Sleestak." Ghettoputer appears to make his wishes known to Sleestak, although no one is sure whether this is the result of complex sign language, expert body posture reading, or simply beating Sleestak with a rubber mallet.
'Puter suggests the Czar suck it.