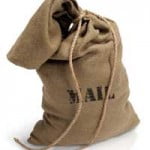 Answering the mail call, that is. The Czar has four unread messages.
First up is Operative FJR, who etched this onto a small grain of rice and slipped it into the Czar's Burmese Beef:
I do a lot of outdoor sports and I was never a big fan of Patagonia's stuff. It is cut too skimpy and is too pricy. We like to call it Pata-gucci because it's overpriced for all the hip people so they can wear "real" outdoor stuff. After seeing this ad and reading their linked blog I vow to never buy their product.
For those unwilling to read the hippie tripe, basically Patagonia has a screed in which they advise you not to buy their product unless you need it, because the world is sick of over-consumption, et cetera.
First of all, FJR, a lot of the mega-outdoor corporations are owned by hippie dirtbags who make millions of dollars advising people to get back to nature and simplicity. The Czar likes one such outfit—REI—because even though they smell bad and are a co-op, at least you get a portion of the profit back each year as a coupon to buy more stuff. That ain't bad. And REI was great for climbing equipment, but they too have devolved into another over-priced outdoor clothing store. As a result, the Czar prefer to buy as much at Bass Pro Shops. It isn't the cheapest stuff, but they make high quality stuff that lasts and are blatantly pro-gun and archery. Look, if they don't sell firearms (Bass, Cabela's, and that's about it), you're gonna get the hippie attitude.
Second, it's a load of crap. They can take that position, but you notice it isn't easy to find much of this attitude on Patagonia's website when you're checking out. No, they have their blog page to shut the hippies up while they simultaneously laugh themselves to the bank during the holiday season. Typical hippie do-as-I-say bullshit.
Next up is Operative BG, who has had it up to here with the word free.
Your Czariness, Milton Friedman would disagree: There ain't no such thing as a free lunch. There is no free anything; it's simply a question of who pays for it. Health care is not free in Canada or the U.K.; people pre-pay for it with their taxes. School lunches are not free; they are paid for by taxpayers. Even the fresh air you breathe isn't free; factories have to buy the technology necessary to keep from spewing smoke into the atmosphere, and they pass that cost along in the form of higher prices to the consumer.

Saying that something is free is almost always an intellectually lazy and slovenly way of saying, "it's paid for by someone other than the recipient."

I know it isn't December 31 yet, but may I humbly request the Gormogons resolve that in 2012, they will prohibit the use of the word "free" anywhere on planet Earth? You could make an exception for non-economic uses of the word, as in "Since his ammonia bath, Dat Ho is free of lice."

I suggest the following penalties for violations:

First offense: Boot – with extreme prejudice – to the gut, courtesy of the Inscrutable Mandarin.
Second offense: Axe – with extreme prejudice – to the skull, courtesy of Your Czariness.

Cheers!
Uh, yeah. Cheers.
MC writes in after a brief absence to say he was thinking of the Czar when he read this quote from Failbook:
Shot my first turkey today. Scared the shit out of everybody in the frozen food section though. But it was still awesome.
And finally, for those of us really deep in the internal lore of the Castle, comes JA's letter:
Something you might thank or curse me for, but as soon as I saw it, I knew I had to forward it along to you:

All three Marathon games available for free.

I know what I'm doing this weekend…

Operative JA
Yep, well, a very few of know that Mandarin, Volgi, and your Czar spend hours—cumulatively weeks—having a blast with Marathon from 1994-1996. Usually on Fridays, but some nights went very late. If you like Halo and really want to understand where it all came from, this is the game for you. There probably hasn't been a video game series before or since that had more secret codes, messages, inside jokes, and easter eggs embedded into it.

Божію Поспѣшествующею Милостію Мы, Дима Грозный Императоръ и Самодержецъ Всероссiйскiй, цѣсарь Московскiй. The Czar was born in the steppes of Russia in 1267, and was cheated out of total control of all Russia upon the death of Boris Mikhailovich, who replaced Alexander Yaroslav Nevsky in 1263. However, in 1283, our Czar was passed over due to a clerical error and the rule of all Russia went to his second cousin Daniil (Даниил Александрович), whom Czar still resents. As a half-hearted apology, the Czar was awarded control over Muscovy, inconveniently located 5,000 miles away just outside Chicago. He now spends his time seething about this and writing about other stuff that bothers him.