Three out of Four is a start…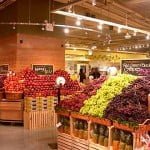 You may recall Dr. J. demonstrating enthusiasm for Whole Foods CEO, John Mackey's healthcare plan in the Wall Street Journal. You know, the one that got the Obama Administration in a snit and created great confusion among the liberal elite who no longer knew where they could buy their organic, fair trade, free range, politically correct produce?
First and foremost, he opens up with some patriotism, which is not something we often see from folks who pander to the granola set. But he totally gets it.
Is the United States exceptional? Of course we are! Two hundred years ago we were one of the poorest countries in the world. We accounted for less than 1% of the world's total GDP. Today our GDP is 23% of the world's total and more than twice as large as the No. 2 country's, China. America became the wealthiest country because for most of our history we have followed the basic principles of economic freedom: property rights, freedom to trade internationally, minimal governmental regulation of business, sound money, relatively low taxes, the rule of law, entrepreneurship, freedom to fail, and voluntary exchange.
He realizes that we went from 3rd in economic freedom in 2000 to 9th in 2011. Furthermore he knows its root causes lie in government solutions to our problems.
So he has a plan to fix our problems.
First, Medicare and medicaid need to be sustainable, and thus there the age requirement should grow with life expectancy and means-testing. The only challenge with means testing medicare is that there have to be viable options for purchase for the elderly of means. Right now medicare has essentially a monopoly on primary coverage which skews the elderly healthcare market. But he wants retirement to be eventually privatized (i.e. for Gen X) which is fine, because the ants of Gen X are already doing that anyway. F' the grasshoppers. He says that Chile and Singapore have pulled it off. Dr. J.'s been to Chile, loves the place, btw, but if they can do it, we certainly can.
Second, tax reform. You've heard Dr. J. say that as well. He'd give up EVERY deduction he takes for a maximum rate of 15% (Dr. J. will even spot you the 20% if it is only every dollar above, say $250,000 or something, just to get the deal done, so long as there is a required 2/3 majority to raise it). Corporate tax reform, with a rate down to 26% from 39.2% (average national/state). Dr. J. would push lower, but that's just him.
Third, Regulation reform. Cut the BS, yes. Cut the legitimate safeguards, no; and add sunsets and cost-benefit analyses.
Now the last fix he offers is to cut defense. This is probably the sugar coating to try to trick liberals into swallowing an otherwise very conservative economic plan. However, this is where he and the Gormo's part ways. As you know, the F-22 Raptor is the official warplane of the Gormogons, and national defense is probably the most important responsibility of the federal government, so we would find that $300B/year by repealing and replacing Obamacare with the Mackey Plan, AND getting rid of some unnecessary federal agencies.