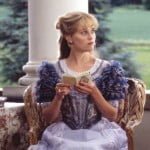 Dr. J.'s lil resident was the lead actress in the π'th grade play at the New Atlantis Jedi Academy on Thursday, The Tragedy of Darth Plagueis the Wise .
The purpose of this post is not to be a brag hag. Dr. J. promises that there is a point.
As you would expect, she was 'teh awesum' in her role and her parents were very proud of her and her performance, especially during the elegantly choreographed light saber duels. The lil resident takes voice lessons and dances competitively, but she has not had an opportunity, up until now, to showcase these skills in a forum where her peers at the Jedi Academy have had the opportunity to see them. The performing arts are what she does well, and she is as passionate about excelling in that arena as she is in the classroom. Honestly, her bathroom sounds like a concert hall come shower-time. Obviously, we have both complimented and constructively critiqued her in private regarding practices and performances.
Truth be told, it was a little awkward for Dr. J. and Mrs. Dr. J., as the number of parents going out of their way to compliment us regarding the lil resident's performance was something we aren't accustomed to. In addition, neither of us wanted to come across as excessively proud of our daughter's God given talent. So we would smile, say thank you, and when we knew the child of the parents, pay a compliment back regarding something their child did well in the play.
You see, up until now, the arenas of excellence for her peer group have been limited to good manners, the classroom and the athletic fields. Folks don't talk about academic performance at this stage, beyond "Your kid is so smart," based exclusively on them conversing with your child, and hearsay from their kid; but not grounded in any sort of quantitative knowledge.
Clan J. is not historically known for its athletic prowess. Dr. J. lettered in soccer and baseball at his small private high school (aka doormat) and drank beer with the track team in college. Mrs. Dr. J. did recreational sports (especially swimming) as a youth. The lil resident hated soccer (the state religion of suburbia) but is a decent basketball player, albeit far from the star of the team. So, for Dr. and Mrs. Dr. J. it was very comfortable to quietly enjoy her basketball games because she was having fun, working hard and improving her skill set. She was a role player on the team, dishing off the ball and racking up assists, and doing cartwheels down the court when her teammate scores a go-ahead basket. Of course we would pay compliments to her outstanding teammates and their parents. It was genuine, as we like her teammates and are happy for their success. What we learned last night is that giving compliments is far easier than receiving compliments.
What was nice was that the parents with the most effusive praise were the parents of the stellar athletes in her class. Dr. J. got the impression that it 'clicked' for them that this was the lil resident's talent, just as soccer, basketball, or softball was their precious snowflake's talent. It was also nice to see that they had an appreciation for the performing arts and for our lil resident. The reality was that the biggest feeling felt by Dr. and Mrs. Dr. J. was that they were humbled by and appreciative of the praise given to their daughter.
What made Dr. and Mrs. Dr. J. proudest, however was the ease and graciousness with which the lil resident thanked her friends and parents, and genuinely returned the praise, "Thank you Padme, but let me tell you, you were the best Jawa EVER!" and "Anakin, your dancing was spot on, great job!"