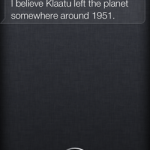 As you know, Dr. J. & Mrs. Dr. J. are the proud owners of new iPhone 4S's. The Siri technology is a cool feature. Dr. J. had to run home before going to work this morning, on the way to work, he needed to call a store on the way to work to see if they were open, as he needed to pick up an item they had on hold for him. So he opened Siri and said, "Call Store X, on Main Drag, New Atlantis." It called the number for him through his truck's speakerphone. Slick, eh? It's really that good.
Except, when it isn't.
Mrs. Dr. J. picked up the kids on Friday from the Jedi Academy. The lil resident was in the backseat playing Smurf Village on the device when Mrs. Dr. J. said, "Hey, lil resident, call daddy (meaning Dr. J.) and ask him where he wants to meet us for dinner."
The lil resident activated Siri and said, "Call Daddy!" So, Siri called Mrs. Dr. J.'s daddy, who is listed as Daddy in her contacts.
After much confusion, including disappointing some individuals who all of a sudden were thinking we were surprising them in New York, there was a heart warming family sit-com chuckle.
The lil resident learned she has to say, "Call Dr. J.'s iPhone" to get a hold of her daddy, and "Call Daddy" when she wants to call gramps.
GorT would call this sort of thing, "Garbage In, Garbage Out," but Dr. J. sees this as an opportunity for innovation with Siri 2.0. Coders, can you hear me?