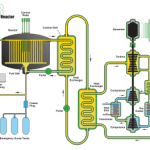 I've been doing some light reading recently on nuclear power, history and chemistry. Specifically, I've been learning more about LFTR (pronounced "lifter" – much like Bungie's SPNKr is pronounced "spanker") which stands for liquid fluoride thorium reactor. I'm going to get into some details below but the evidence points at the ability to generate electric power in the United States using LFTR technology at $0.03 cents / kWh. To put that in perspective, current costs of coal, hydro and natural gas generated electric power cost on average between $0.05 and $0.06 per kWh and with current government regulations, power companies are buying solar and wind power at $0.20 to $0.30 per kWh. Thorium and uranium have over a million times the energy density of coal. A no-brainer, right? It gets better. There are discussions that with LFTR technology, we could replace petroleum with ammonia. I'll come back to that in a bit.
So there are three natural sources of nuclear fuel: Thorium-232, Uranium-235 and Uranium-238. U-235 was the only naturally fissile but it is the most scarce of the three. Early nuclear scientists had two options then: U-238 (which is derived into the fissile Plutonium-239) or Thorium-232 (which is derived into Uranium-233 for fissile fuel). The U-238/P-239 option led to what is termed the "fast-breeder reactor" technology and it became the centerpiece for President Nixon's energy policy. The technology for thorium-based reactors was actually started in the 1950s and 60s. After years of work, Alvin Weinberg, director of the Oak Ridge National Laboratory, was shut down due to political pressures. First from Nixon's administration's push and then after India detonated a nuclear bomb in 1974 and the worries of nuclear proliferation accelerated. President Ford continued the push until he succumbed to worry about his opponent in the 1976 election. Five days before the election, Ford announced a ban on the reprocessing of nuclear fuel which killed the fast-breeder reactor. It didn't help his campaign and President Carter stepped in and continued the ban and pushed for the United States to make greater use of our coal resources. The thorium-based "molten-salt" reactor technology languished in the background during all of this.
The molten-salt reactor has a number of advantages: (1) its design is safer than traditional reactors, (2) economical in that the Thorium is plentiful and a handful can produce enough energy to last an individual's lifetime average use, (3) the waste is significantly more "clean" with a much shorter half-life for the reactive products and (4) its design and components are such that small-scale reactors (large vehicles like trains, ships, and larger aircraft) can make use of them.
As a comparison with the light-water reactors (the standard uranium-fueled nuclear reactors), a thorium fueled liquid fluoride reactor can produce 11,000 Gigawatt-Hours per mega-ton of natural thorium while the traditional reactor produces 35 Gigawatt-Hours per mega-ton of natural uranium.
I mentioned earlier the ammonia replacement for petroleum. A natural by-product of the LFTR technology is desalinized water which is a benefit across the world, particularly in areas where "fresh" water is scarce. It can be used to irrigate crops, provide drinking water, etc. But the LFTR technology can also help address the harder energy problem to solve: the reliance on petroleum due to its high energy efficiency and portability. Ammonia, while hazardous in concentration, is as safe and maybe more so than gasoline. It is lighter than air so it disperses rapidly if spilled. It does not catch fire until 650°C. Through LFTR technology, ammonia could be produced at half the cost of producing it from natural gas and it would avoid the release of carbon dioxide in the current process.
It is amazing to me that this kind of technology has languished, particularly with the current push away from fossil fuels. It is a technology that would benefit countries world-wide with the benefits described above. It'll be interesting to see if companies like Flibe Energy can successfully make a go of it. I, for one, am all for it.
PS – for those old Atari game fans who like Chris Crawford's games, here's a snapshot: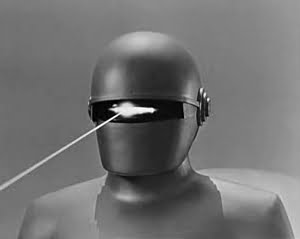 GorT is an eight-foot-tall robot from the 51ˢᵗ Century who routinely time-travels to steal expensive technology from the future and return it to the past for retroinvention. The profits from this pay all the Gormogons' bills, including subsidizing this website. Some of the products he has introduced from the future include oven mitts, the Guinness widget, Oxy-Clean, and Dr. Pepper. Due to his immense cybernetic brain, GorT is able to produce a post in 0.023 seconds and research it in even less time. Only 'Puter spends less time on research. GorT speaks entirely in zeros and ones, but occasionally throws in a ڭ to annoy the Volgi. He is a massive proponent of science, technology, and energy development, and enjoys nothing more than taking the Czar's more interesting scientific theories, going into the past, publishing them as his own, and then returning to take credit for them. He is the only Gormogon who is capable of doing math. Possessed of incredible strength, he understands the awesome responsibility that follows and only uses it to hurt people.