The Red Eye glares at toasters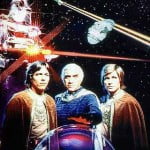 Dr. J.'s buddy, Jamie Jeffords, at the Eye of Polyphemus, has completed his wanderings in the wilderness that were reviews of the dreck called Star Trek: Voyager, and has cast his gaze towards Caprica and has begun reviewing Battlestar Galactica (1978). Dr. J. has fond memories of that series and looks forward to his reviews, especially of the The Living Legend (staring Lloyd Bridges as Commander Cain) and War of the Gods (starring Patrick Macnee as Count Iblis).
Dr. J. hopes you enjoys the nostalgia along with him. Thankfully, Galactica 1980 will not be recounted.