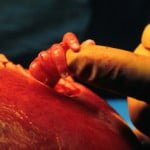 Operative SM wrote in with a link to the following missive from the Witherspoon Institute, a wonderful, and thoughtful conservative think tank. Basically it talks about a new test, the MaterniT21, a maternal blood test used to detect Down's Syndrome in the infants that they are carrying. In it, there are links to supporting articles. The most important can be summed up as follows:
Study after study has found that a significant number of expectant mothers and their partners do not understand the probability assessments of screening tests, did not expect they would have to make a decision about invasive testing, and, after a positive diagnosis, often are unexpectedly counseled about termination for the first time and rarely informed of the option of adoption. This has led one researcher to conclude that the current administration of prenatal testing does not respect a woman's right to choose because so many make uninformed decisions. In response, just this summer, both the National Society of Genetics Counselors (NSGC) and the American Academy of Pediatrics (AAP) published new guidelines specifically calling for the delivery of accurate, up-to-date written materials about Down syndrome and referral to parent support organizations when a patient receives a prenatal diagnosis. The NSGC even listed the educational materials that should be provided to patients, but Sequenom has yet to invest in these equally important information resources for expectant mothers undergoing its testing.
Dr. J. can speak of this from experience.
In medical school, we learned about a test called the 'Triple Screen' a test that measures alpha-fetoprotein (AFP), human chorionic gonadotropin (HCG) and unconjugated estriol (UE3). If it were abnormal, it meant that there may be an issue with the pregnancy such as Down's Syndrome, neural tube defect (e.g. Spina Bifida). As a screening test, being positive leads to more testing. Ultrasound and amniocentesis were follow ups to see what is going on. The test has been refined and now a 'quad' screen is the screening test of choice and it adds the measurement of a hormone called dimeric inhibin A. It is still a screening test for birth defects and still leads to further testing.
Now, naively, Dr. J. believed that the reason for this test is so that families can be prepared to welcome a baby with a birth defect into the world. At the time, his medical school was pioneering fetal surgery so as to correct neural tube defects in utero, so being proactive appeared to be a good thing. In addition, elective abortions were done very rarely and if they were, they were done very discretely. There may have been one his entire month on OB/GYN that he knew happened.
Wind the clock forward to when Mrs. Dr. J. was great with lil resident in the womb. We were offered the 'Triple Screen' and CF testing and we said, "Yeah, sure. We want to be ready to take care of any needs or complications for when our little one arrives." Based on what you see below, we probably told this to his nurse, but everybody did their thing. We got the test, it was negative and we moved on. Lil resident was born pink and perfect with 10 fingers and 10 toes and a midichorine test within the force sensitive range.
Wind the clock forward to when Mrs. Dr. J. was great with lil med student quickening in the womb. Our OB/GYN, offered us the quad screen. Dr. J. said the same thing, "It's good to be prepared." Dr. OB/GYN looked a little uncomfortable, and sat us down.
He said,"Look, I've known you both a long time, and I know and respect your values. You don't need this test. The primary reason people get these tests is determine if the child has a birth defect for which they would to terminate the pregnancy, and I know you would have no intention of terminating your pregnancy. I have seen a number of these screening tests be false positive, and the follow up amniocentesis accidently cause a miscarriage of a babies who, do not have birth defects. I have also seen false positive amniocenteses result in the termination of healthy babies. If your child had a health condition that we identify via routine testing (e.g. ultrasound) or at birth, we would have social services on the case so that everything would be in place for you before discharge. You do not need this test."
Another thing that he and we did not discuss, but of which we are all well aware, is that Down's Syndrome and Spina Bifida are diseases that have a spectrum of severity. Actor Chris Burke and George Will's son, Jon, are very successful and productive members of society who have Down's. The lil resident, and one of her BFF's both have friends with Down's syndrome. As a group these are very happy and loving children. Many of them have challenges to overcome, but that is what life is about for all of us.
Honestly, in retrospect, even if the child had a neural tube defect, the ultrasound would have detected in in a manner that if we were considering a heroic maneuver such as fetal surgery, we would not need the triple screen to get there.
Similar to this, there are blood tests available to determine very early the sex of your child. They have been around for a few years. They are available at some drug stores. They pretty darn accurate, but imperfect. This meta-analysis looks at a number of different tests. When you go to table 1, the important line to look at is Gestational Age, 7-20 (weeks, not months as labeled). The positive predictive value (of having a boy) is 98.9%. This means that if the test says you are having a boy, there is a 1.1% chance it is a girl. The negative predictive value is 95.1%. So if the test says that you are having a girl, there is a 4.9% chance of having a boy. Now the reason list is cut off at > 20 weeks is that 20 weeks is when you can get an ultrasound.
Again, when the lil med student was in utero, these tests came out. Dr. J. said to a conservative, pro-life friend, "Hey, I can get the baby's room painted 8 weeks sooner," as at the time the tests were being marketed at ~12 weeks. He told me, "Hey, Dr. J., the reason for that test is so you can kill the baby sooner if it doesn't match the paint you want."
So, the lesson here is that it is critical to have a good relationship with your doctor, and to ask questions. It is important to know why a test is or is not important and necessary in your care and the care of your child, and also, to learn the limits of that testing.