The Poor Have Access to Christmas Gifts? The Senate Can Fix That!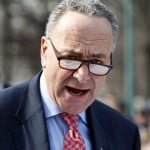 One of 'Puter's two representatives in the United States Senate decided that department stores' reintroduction of layaway is a threat requiring immediate federal action. Since 'Puter knows that Senator Kirsten E. R. Gillibrand (D-NY) is too busy hiding in the Senate cloakroom and avoiding constituents, that leaves only Sen. Charles (a/k/a "Chuck"; a/k/a "The Schoom") E. Schumer (D-NY) as the possible culprit.
Sen. Schumer believes that department stores are taking advantage of low income people without access to credit by allowing them to pay for Christmas purchases over time. Sen. Schumer is concerned that the layaway fees cost more than interest on the purchase would, if the low income folks actually had credit.
Here's a few quick thoughts from 'Puter for Sen. Schumer to consider:
1. If department stores didn't offer layaway, low income folks wouldn't be able to afford to buy Christmas presents at all. 'Puter's betting many of these folks made the calculus that they're willing to pay more in order to be able to provide a Christmas for their family at all. So if Sen. Schumer would prefer to be a Grinch-like bully and force stores to prevent the one avenue the poor have to provide Christmas to their families, please feel free to do so.
2. Low income folks use layaway because, as noted, they can't get credit. Banks think people without income, or with little disposable income net of every day living costs, are not good risks for unsecured credit. This is not controversial. 'Puter's betting that somewhere in Sen. Schumer's admittedly canny, sharp mind, he's formulating a 12 part plan to mandate banks provide unsecured lending to known bad risks. Sen. Schumer can name his bill Senators Helping In Times Of Need, or SHIT ON Act for short.
3. Layaway plans are not a federal issue, under any circumstances. This is a solution in search of a problem. In fact, it's a solution that will cause problems. Continuing to infantilize the poor is no way to create in them a sense of self-responsibility. It creates a group of perpetual dependents, which, on second thought, may be exactly what Sen. Schumer wants to achieve.
Sen. Schumer is a very, very smart man. He is also an evangelical member of the First Church of Big Government, Savior of Mankind, which makes him a very, very dangerous man.
Keep your eye on Chuck. Lord knows he needs watching.

Always right, unless he isn't, the infallible Ghettoputer F. X. Gormogons claims to be an in-law of the Volgi, although no one really believes this.
'Puter carefully follows economic and financial trends, legal affairs, and serves as the Gormogons' financial and legal advisor. He successfully defended us against a lawsuit from a liquor distributor worth hundreds of thousands of dollars in unpaid deliveries of bootleg shandies.
The Geep has an IQ so high it is untestable and attempts to measure it have resulted in dangerously unstable results as well as injuries to researchers. Coincidentally, he publishes intelligence tests as a side gig.
His sarcasm is so highly developed it borders on the psychic, and he is often able to insult a person even before meeting them. 'Puter enjoys hunting small game with 000 slugs and punt guns, correcting homilies in real time at Mass, and undermining unions. 'Puter likes to wear a hockey mask and carry an axe into public campgrounds, where he bursts into people's tents and screams. As you might expect, he has been shot several times but remains completely undeterred.
He assures us that his obsessive fawning over news stories involving women teachers sleeping with young students is not Freudian in any way, although he admits something similar once happened to him. Uniquely, 'Puter is unable to speak, read, or write Russian, but he is able to sing it fluently.
Geep joined the order in the mid-1980s. He arrived at the Castle door with dozens of steamer trunks and an inarticulate hissing creature of astonishingly low intelligence he calls "Sleestak." Ghettoputer appears to make his wishes known to Sleestak, although no one is sure whether this is the result of complex sign language, expert body posture reading, or simply beating Sleestak with a rubber mallet.
'Puter suggests the Czar suck it.