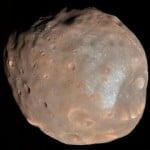 Well, the Phobos-Grunt mission was pretty cool in concept: send a lander to the eerie Martian moon Phobos, grab a fair amount of soil, and bring it back to Earth.
But the probe launched from Earth, and due to a major hardware glitch, is now stuck in Earth's orbit. Not a problem with the probe, but with the final stage of the rocket that failed to fire.
In a few weeks, the rocket, its multimillion dollar cargo, and its potentially very deadly fuel will come crashing back down to Earth.
Too bad we don't have a shuttle or something that could go and rescue the craft. Not that the Czar is griping too much: there is little sense having a multi-billion dollar shuttle fleet that basically spends most of its time on the ground and the rest carrying groceries up to a fairly deserted space station which is not doing any significant testing.
So we axed the shuttle program. So now we need to depend on the Russians to get Americans to and from space.
In an assuredly unrelated event, the Russians are the guys who couldn't even get the basic rocket to work.

Божію Поспѣшествующею Милостію Мы, Дима Грозный Императоръ и Самодержецъ Всероссiйскiй, цѣсарь Московскiй. The Czar was born in the steppes of Russia in 1267, and was cheated out of total control of all Russia upon the death of Boris Mikhailovich, who replaced Alexander Yaroslav Nevsky in 1263. However, in 1283, our Czar was passed over due to a clerical error and the rule of all Russia went to his second cousin Daniil (Даниил Александрович), whom Czar still resents. As a half-hearted apology, the Czar was awarded control over Muscovy, inconveniently located 5,000 miles away just outside Chicago. He now spends his time seething about this and writing about other stuff that bothers him.